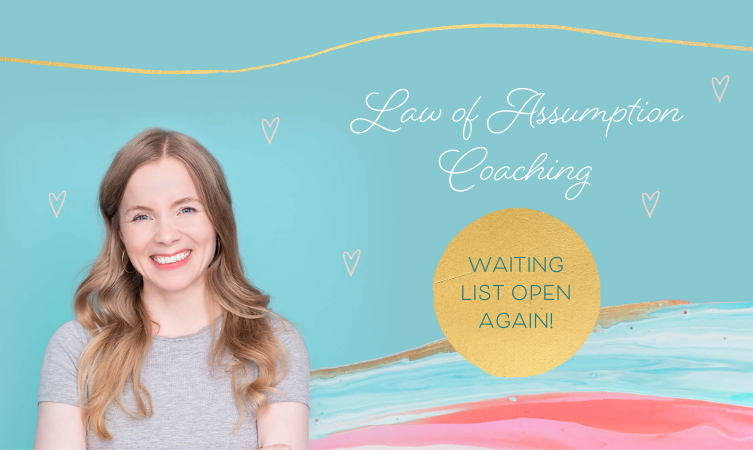 Hi conscious creators,
Just a note that my Law of Assumption coaching form is open for applications again (applications have been closed for the last 4.5 months.)
This is a waiting list for a session as I do have a backlog of sessions to get through. But you will be contacted as soon as it is your turn in the queue, and by applying now you will lock in a session at the current price.
In this 90-minute session, we take one desire that you would like to create in the 3D. We will look at what you are currently doing (or not doing) that is affecting your manifesting process.
If you're familiar with my work, you will know that whenever I offer something (whether it be a course or a session), it is characterised by comprehensiveness. I love to come up with formulas that cover all bases for creating a result!
I had a formula for manifesting that I had used in my own life successfully, and this formula has been applied to coaching clients successfully and adapted to the needs of every individual client.
Among the clients I have worked with so far, through following this formula, we've seen improvements in physical and mental health, as well as increased incomes.
I don't take credit for these results one bit — these results are simply down to the Law of Assumption and the work that clients have put in. Put the Law into action, persist at it and you will get what you want in time (and sometimes very quickly – for some of my clients, within days).
It's the Law!
And in this session I will break it down into a (written) step-by-step process on how you can use it to create anything you desire.
The session costs $100 US.
Just a note on the price: I am doing these sessions at a reduced price to gain experience as a coach. Each session takes me 3-4 hours altogether, to prepare, do the session with the client and write up a plan afterwards. Something I am seeing is that my training as an intuitive is extremely helpful for this kind of coaching (I've been a professional intuitive for the last 16 years.) Although this session is not a reading, my intuition helps me to know how far along my client is in the manifesting process and what, if anything, is holding the person back.
As I gain experience, the price will continue to rise until eventually it's more in alignment with my other offerings.
You can apply for coaching here. Please read my terms and that page thoroughly before applying. There is quite a bit of work required on your end for this process, so don't apply unless you're ready for that.
I'm so happy that I offered this type of coaching. It has been incredibly inspiring for me, and I've learned a lot already.
Note for clients who applied in April 2023
I am in the process of working with those who applied in April. You will be contacted, and if you aren't, it's because you either didn't give me enough info to know if I can help you or you didn't answer all the questions in the form.
Note also that if you applied when the price was $25, (which is all of the people who applied in April) that is the price you will pay when your session goes ahead.