Part 1 | Part 2 | Part 3 | Part 4 | Part 5
Beginning to Live my Purpose
In my early twenties, I was offered a job teaching in a private language school and moved to the beautiful Catalan Pyrenees area of Spain.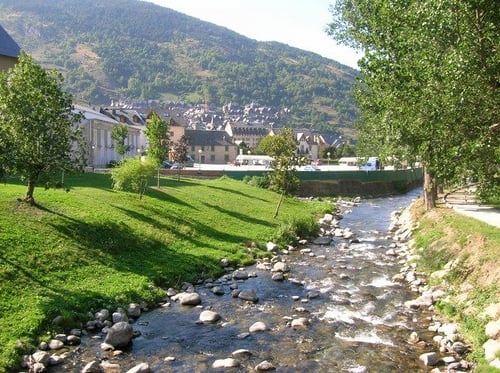 The course of my life would completely change here. When I got there, I told my boss about my interest in the spirit world and my plans to eventually leave English teaching for a career doing intuitive readings. He asked me to do a reading for him.  It took me by surprise as I had never done a spirit guide reading before.  I said yes.  I had no idea how to actually do a reading or what I was doing.  I just lay down and visualized meeting with his guides. Getting the information was difficult and the connection to my guides was not a good one. But they still told me several things which to my great surprise were, according to my boss, very accurate and helpful to him. This was very encouraging for me and I started thinking about finding a way to train professionally.
It was around this time that I came across the website of a professional intuitive. I didn't give my visit to her website a second thought but a few nights later, I had a dream, in which this woman was giving me a reading. The things she said in my dream were unusual but believable. I wasn't earning a lot of money, so I could barely afford a reading with her, but I felt more and more compelled to book one and did get one in the end. When I rang her for the session, there was one astonishing feature of the reading: What she said in the real reading matched exactly what she had said in my dream reading a couple of weeks earlier – and it was not just one aspect, but numerous aspects of the dream. This intuitive had brought out her training course a few weeks earlier, which taught others to use their intuition to give readings for others. When I learned about it, I jumped at the chance to do it. A few years earlier a psychic had predicted that I would be doing readings for others, but at the time I dismissed this as impossible.
Now here I was, with an opportunity to become a practising intuitive with a system whose accuracy had been proven to me in the reading that I had had. I was sold. The course was a correspondence course with tutoring over the phone. I took every opportunity and every moment I had to study on evenings and weekends.
Around the time I started the course, I had an incredible experience with a deceased spirit.  I was woken up in the night by a spirit of a man (not something that used to happen to me every day!) I later found out it was a deceased spirit. The spirit told me who he was, whose relative he was, what he looked like when he was alive and I received a message for someone who was known to me. The message told me about an event that was known to this person and the deceased spirit, and revealed a couple of specific details that I had no way of knowing. The message was for my boss at the time. Encouraged by this experience, within several weeks I had finished the course and in 2007, I gave my first reading. Giving my first reading was very nerve-wracking but the client resonated with what I said from the very beginning. After that, to my surprise and joy, I began receiving more reading requests.
So, with a mixture of excitement and some fear, I quit my teaching job and moved back to the UK. Over a number of months, I grew a client base of a few hundred clients. My dream of doing work I enjoyed had fallen into my lap. Training as a professional intuitive had allowed me to turn my interest in the Spirit World and my desire to help others into a full-time career. Every day when I woke up I thanked God that I had found something I love to do. I still feel really thankful when I wake up in the morning. And I absolutely love that I'm able to contribute something significant to the lives of others. It is truly a dream come true for me, one that I never imagined would come true, because at one time I was so discouraged by life. The best bit is when clients write to me, after their reading and say stuff like this (this is a testimonial from a recent client): I am so thankful to you for the amazing reading you did for me….It's mind-boggling how accurate the information is and how all the pieces were put in place for me by this reading. I was a bit skeptical at first, even though I knew this was the right time for me to find out about my Soul's Purpose… this reading is all I want to talk about to those close to me because it has touched me in ways that I will remember in this lifetime, I'm sure. Anna, I am forever grateful, thank you. – Drina If you want to develop your intuitive abilities, know that it can be learned. How far you go with opening up your spiritual connection and intuition is entirely up to you. And that's the message I'm dedicated to putting out there through this website.
The Next Part of the Journey
Since training as a professional intuitive in 2007, I have done thousands of readings, and I have taught over 1000 people to connect with their guides and Higher self through my Intuitive Awakening course. I continue to have lots of spiritual adventures and discoveries, which I write about regularly on my blog! Here are some of them:
I wish you enjoyment (and amazing experiences) on your path of connecting spiritually!