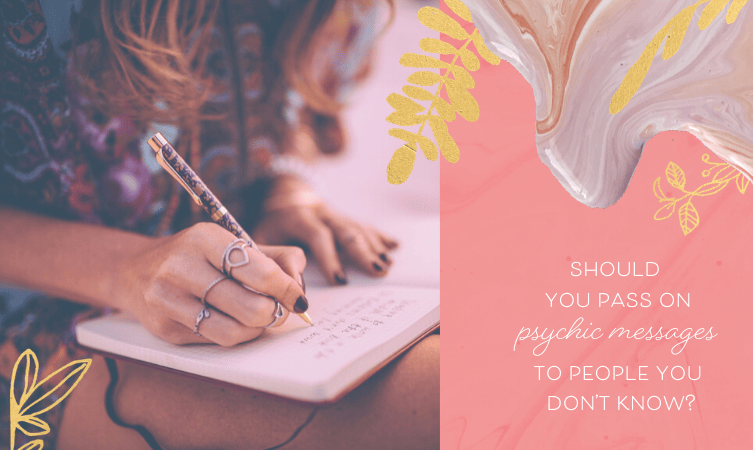 I wanted to write about this because it's something people ask my advice about, from time to time.
Personally, I do my best to be 'switched off' outside of readings. On top of that, I shy away from passing on messages to people who have not asked for it and I feel this is a good policy to have for any intuitive who wants to keep their sanity.
I also like to work on the premise that it's not appropriate to help others unless you have been asked for help.  To do otherwise (in many situations) constitutes interfering in someone's life. Plus if the potential recipient of your message is a total stranger you can't assume that the person you feel prompted to read for has the same beliefs as you.
In my view, the only exception to this approach might be when you feel that the situation is a life and death one.
In the book Psychic Development for Beginners
, the author William Hewitt told the story of how he saved an employee's life through the clairaudient message that he received.  This person was planning on committing suicide that very evening, and the author's guide or Higher self warned him of this. He was able to talk the person out of their plans for suicide.
I believe those situations are rare and unusual and may only come up when a soul has sufficiently wandered from the path that they chose for themselves – the kinds of situations where the person needs urgent spiritual help getting back onto it before they make a decision or take an action that cannot be reversed.  Otherwise, in my opinion it is not our responsibility to pass on messages or guidance to people who have not asked for help or guidance.
What if it is a message from the afterlife?
This is a situation that some of my former students have been in, having received a message from a deceased person which they feel prompted to pass on to someone they do not know.
This is 100% a judgement call. I personally would shy away from it. Just as a person may not wish to hear from a living relative or friend if something went wrong in the relationship, a person may not be ready to hear from a deceased person. People who schedule a mediumship reading are taking a big step to communicate with a deceased loved one, but those who have not taken that step are not asking for a mediumship reading.
Remember also that the deceased have their own agenda and they can sometimes be a bit pushy if they see it as their last chance to get their message across. So your sense of urgency to pass on the message may, in fact, belong to the spirit you're communicating with and has nothing to do with the person who is potentially on the receiving end.
If you feel an urge to read for others often in inappropriate situations, then it may indicate a gift that you are not using, that your soul longs to use. One way to deal with this would be to learn to read for others.
If on the other hand you are so switched on psychically that you receive information about strangers left, right and centre, you might want to do something about that to prevent it from happening. It can be exciting because your gifts are so switched on but the downside is that it drains your energy over time.  I recently wrote an article about this issue: How to Switch off Your Intuitive Abilities
What do you think of this question? Have you ever passed on a message unprompted, to someone you did not know?