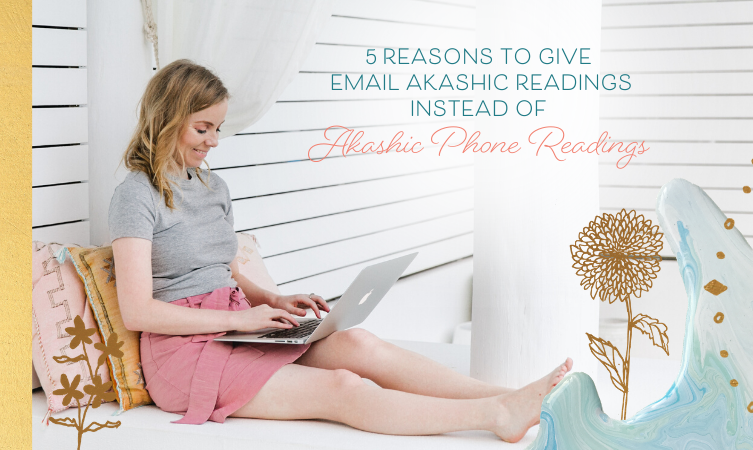 This is a post for the existing Akashic Record readers out there, or for the psychics who are thinking of learning to read the Akashic Records. And it goes into the topic of how to choose whether to deliver your readings by email or by phone, and the advantages of each.
As you may know, I am an Akashic Record reader who also trains other people to read the Akashic Records. For a few years now, I've given Akashic Record Readings exclusively by email, although I used to do them by phone, too.
I normally train people to give phone readings, but recently I brought out some email templates which make readings so much quicker and easier, and so I am now teaching students to do email readings, too.
So, here are the top 5 reasons to give Akashic email readings rather than phone readings:
1. You're an introvert
This is one of the reasons I stopped giving phone readings and started giving email readings.
By definition, an introvert is someone who gets drained through contact with people. As an introvert, people contact is something I enjoy, but it is also something I need to refuel from. So if I am giving phone readings, that uses up some of my introvert energy that could be spent on time with family or friends.
An extrovert, on the other side, gets drained from spending time alone and is energised by people contact. The guest intuitive who used to work via my site (Shelly) is an extrovert — that's why I had brought her on board, to do phone readings with clients, so that I could focus on the email readings instead.
I'm not saying that introverts aren't suited to phone readings, that's not the case at all, I am saying that if you're an introvert who has a lot going on in your life, you may find phone readings more draining than email readings.
2. You're a parent of young children or you want to work flexible hours
Giving email readings is an amazing opportunity for parents of young children to do flexible work. (Although bear in mind that building a business to actually get the work in the first place, takes some effort and time.)
When you do a phone reading, your client will probably not be impressed if there's a child in the background demanding your attention. Doing email readings means that you can work when you like, and if you get interrupted by your kid unexpectedly, it's not a disaster. You can put it down and come back to it later.
3. You live in a tricky time zone
I remember when I lived in New Zealand, it could often be tricky to schedule phone readings with clients in Europe and I would sometimes need to do them at like 7am or another time that wasn't ideal. Whereas the email readings could be done, and sent off at any hour I liked.
4. You just don't like being constrained in terms of your schedule
One of the reasons I was always going to be someone who works for myself, as opposed to in the corporate world, was that I hate having to show up to work at 9am every day. I like to work on my own schedule. In fact, I'm writing this article at 2.30am, which suits me just fine. I don't really do early mornings.
So personally I really value the flexibility in terms of hours, that doing email readings gives me. I don't have to show up at a certain time, on a certain day. I can do it in my own time.
I realise this is a massive luxury and not something to be taken for granted!
In this article, I've focused more on the benefits to the reader, of giving this type of reading but there is a nice benefit for the client, too:
5. The client gets a written document to look back on
The fifth reason to give email readings instead of phone readings is that some people like to have a document to refer back to (rather than a recording to listen to.) Being able to give a written document for people to keep forever, adds value and is something that clients definitely appreciate, and it means that email readings are popular, too.
The problem with giving email readings:
If you had been trained by me, the problem with giving Akashic email readings used to be that they took AGES. You had to re-invent the wheel, so to speak, writing out all the info in your own words in addition to the research that you did for your client. I spent years doing this myself, and I did so much of it that in the end I found that I had completed my own templates.
These templates are now available for purchase, as an add on for Akashic Record Reading Program students
The templates resolve all the issues there used to be around giving email readings, in terms of the output of time and energy. And they also mean you aren't creating any legal problems in terms of copyright, by copying and pasting from the course manual.
Intuitive Reading Program students who signed up on or after 5th June 2019 get free use of these templates for 12 months. If that is you, please e-mail us to obtain your free access.
Akashic Record Reading Program students can now also purchase use of the copyright.
12 months – $249
24 months – $349