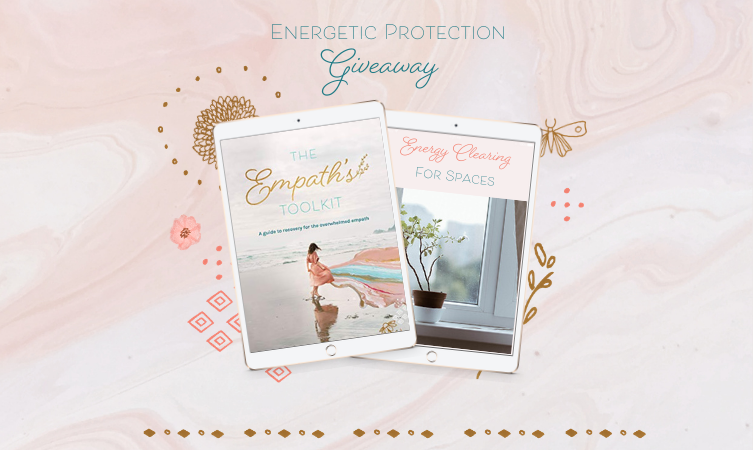 Hi everyone,
As we're coming up to Christmas soon, I am running a giveaway for empaths over on my Instagram.
As part of this giveaway, I am offering the chance for 2 people (and a friend of their choice) to win both a copy of both my Energy Clearing for Spaces online Course & my book, The Empath's Toolkit (together valued at $59.)
These two offerings contain everything I have discovered & learned about energetic protection over the last 13 years.
I wanted to offer this giveaway now, because Christmas and the holidays can be an overwhelming time for empaths, and these two guides will not only teach you how to clear negative energies from your aura & your space, but they also teach you how to protect yourself in future.
Here's what you have to do to enter:
1) follow @anna_sayce on Instagram if you aren't already
2) tag a friend in the giveaway post – (The giveaway starts on Friday 4th Dec at 2pm Eastern, so you may not see the post until then.) ⠀⠀
Each comment counts as an entry so spread the love and tag all your friends! You will also get 10 bonus entries if you share the post in your stories and tag us too.
If you win, you will get a copy of these two offerings for yourself and you'll also get a free copy of the course & book to give to a friend for Christmas. So the 2 winners will win two copies of each in total — one for themselves and another for a friend.
Good luck! I'll choose the winners at random on Dec 11th and announce shortly after.
Here's more info on the two offerings I'm giving away:
The Energy Clearing for Spaces Course — this online course (valued at $49) teaches you how to diagnose energetic issues & various negative energies in a home, clear them and set up energetic protection for your space so you don't need to clear it again in future.
The Empath's Toolkit — this book teaches you how to clear 5 types of negative energy from your auric field that empaths are prone to picking up. It also explains how we become empaths in the first place, and how to diagnose if you are suffering from empath overwhelm — and fix it. It is the ultimate guide to thriving as an empath.