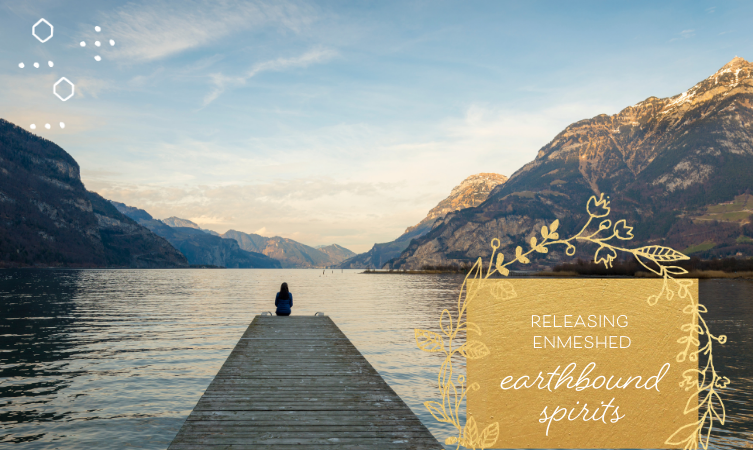 Next February I'll be teaching a group of healers, how to cut cords, clear two types of earthbound spirit for people, and release a variety of astral/psychic debris from the energy field.
Would you like to join us?
All 15 'Apprenticeship' spots on the Professional Intuitive Healing Program have been filled, but I do have more 'Independent Learner' spots available. You can find out more about this healing program here. (It begins on 26th February.)
In this article, I want to cover a topic that isn't very well known, but it is something that I am going to be teaching to the healers in my Professional Intuitive Healing Program early next year, and so I thought it would be interesting to talk about here on my blog, too.
The topic in question, is the enmeshed earthbound spirit.
What is an enmeshed earthbound spirit?
You may have heard me talk about regular earthbound spirits on this blog (as opposed to enmeshed earthbound spirits, which is the topic of this blog article.)
In order to compare and contrast enmeshed earthbound spirits and regular earthbound spirits, I first need to briefly cover the definition of a regular earthbound spirit.
Regular earthbound spirits are the souls of the deceased who have not fully crossed over to the other side after death. Their mental or emotional body is still on the Earth plane. Ideally, that would not be the case. When someone dies, it is optimal for that soul to cross over 100%, rather than leave a part of their emotional/mental body here on Earth.
For this reason, because these earthbound spirits are kind of stuck and often in pain, they do not have a lot of useful information for us, and so this is a spirit that we should not attempt to channel. And it fact, it's better to actively keep this type of spirit away from us, because when they're hanging around us they can give us unhelpful intuitive guidance, affect us emotionally in a negative way and even affect the way our home feels, if they're hanging out in our space.
Just a note that these regular earthbound spirits are not evil or horrible — they're mostly a lot like you and me, but for whatever reason upon death they did not choose to cross over fully to the other side. And so they're carrying around the energies of stuckness, fear and pain with them, and they need to let those energies go, in order to move on. These souls are in limbo.
Regular earthbound spirits are attachments that sit on the outside of your auric field and they are pretty common, especially among cannabis users, reiki practitioners and unskilled psychic developers.
Now, in order to compare and contrast, I'm going to go into some information about enmeshed earthbound spirits.
All About Enmeshed earthbound spirits
An enmeshed spirit situation is a bit different from the regular earthbound spirit. Regular earthbound spirits (the type I discussed above), are attached to the outside of your auric field, whereas the enmeshed earthbound spirit is attached to the inside of your auric field, and it typically occupies a small portion of your life force energy.
This sounds scary, but it's not. It just means that a stuck spirit is with you, and trying to help you out in some way. This situation never occurs without our permission on some level. I'll give you an example of how this sort of arrangement might  play out:
Let's say that you have a tendency to talk too much and overshare. And as a result of your oversharing, you say too much to someone which causes that person to reconsider their relationship with you, in a way that has a negative impact on you.
An earthbound spirit (often one that is already attached to the outside of your auric field) approaches you on the subconscious level and says to you "Looks like you're someone who loves to talk. I can help you keep your mouth shut. I will repress your throat chakra energy so that you avoid situations like this in future." And on some level, you agree to this.
This can often happen when you're asleep and dreaming (in the astrals.) Sometimes it can happen when you're high on cannabis or drunk. In the case of a child, it can happen during play, while the child is in the alpha state.
This is just one example of what an earthbound spirit may propose to you. I've also seen earthbound spirits offer to repress  an aspect of someone's sexuality, and to help a person shut down emotionally to deal with emotional difficulties more easily.
The effects of having an enmeshed earthbound spirit with you
People who agree to this kind of situation (aka having an enmeshed earthbound spirit with them) are not usually aware of what it actually entails. When they agree to it, they may not realise the drawbacks of such an energetic situation, and they may overestimate the benefits.
It can also mean the spirit who is attached gets even more stuck as they find it hard to leave the person they're enmeshed with.
How to clear an energy sharing situation
Having an enmeshed earthbound spirit with you is not that common. I used to offer healing sessions to the general public and in my estimation, only about 3% of my clients were affected by an enmeshed earthbound spirit.
These situations can end spontaneously when the client is ready, or they can end when a healer spots one and asks the client if they would like it to be cleared.
Clearing an energy sharing situation is a bit involved and needs to be done very carefully, in order to avoid the spirit migrating from the client's energy field to the healer's energy field.
In my Professional Intuitive Healing Program I teach healers how to achieve this.
To release an enmeshed earthbound spirit from a person's energy field, you need to go through a number of steps. Firstly, you need to be able to diagnose where an earthbound spirit is enmeshed with a client. Secondly, you need to bring in Divine being to help you with this type of healing. You need to cut a cord of attachment between the enmeshed spirit and the client. And you need to ask the Divine being to help the enmeshed spirit leave your client and cross over. Then you need to have a direct chat with the spirit and explain what is going to happen during the healing and that it's OK to leave the client and cross over.
This is the most complex type of healing that you can do, and it definitely does need to be done quite carefully in order for it to be effective.
As I mentioned earlier in this article, it's not that common to find that an enmeshed earthbound spirit is with your client, but releasing this kind of situation can make a difference to your client, when you spot it. And it can definitely make a difference to the spirit who is stuck with your client.
If you're a healer who would like to learn how to help clients with this type of situation, you might like to check out my Professional Intuitive Healing Program.