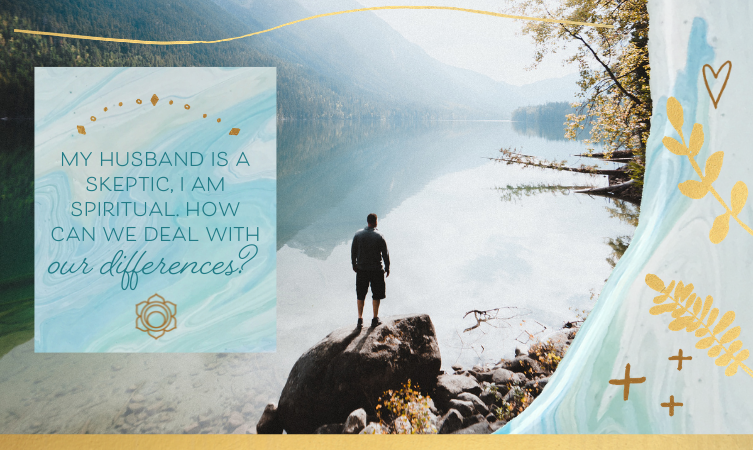 Hi Anna,

My husband and I have been married for almost 25 years. He does not believe in anything spiritual or psychic whereas I have believed in the spirit world my whole life. I use the Tarot, healing crystals, I channel my spirit guides, and believe in mediumship & reincarnation. This has been a point of contention in our relationship for a long time but seems to have become more of a problem in recent years. Do you have any advice?

– Rachael
Hi Rachael,
Thank you for this question. I am not a relationship counsellor but I do have experience navigating relationships with people who don't share my beliefs.
So here are my thoughts around this based on my own experiences:
I think a relationship where you have mismatched beliefs can work just fine as long as you have a key element in place, which is: RESPECT for one another's beliefs.
It's important not to impose one another's views on one another. Neither of you should be trying to get the other to read books to have them come around to their point of view. That isn't going to end well. It's simply about accepting and respecting each other.
Peoples' beliefs are generally shaped around their experiences. If you've never had a spiritual experience, and you've seen no evidence of the spiritual realm existing, then you might not believe in it, and that makes sense. You have to respect that this is a worldview that he has come to based on his experiences thus far. And he has to respect that your worldview is one you have come to as a result of your experiences.
I do not believe that you need to share your spiritual experiences with your husband (and for him to understand them) in order to have a close relationship or to be happy in your relationship. You can keep the spiritual side of you separate from the other areas of your life and pursue your spiritual growth or practices alone. You can also have friends who you share that side of you with. If you lack that in your life, it might be a good idea to attend spiritual meet ups so you can find a sense of community.
I believe that your spouse should only contribute 10% of your happiness and the rest needs to come from you. He cannot meet all your needs, and that may include a need for a spiritual buddy who can share these experiences with you.
What if your spouse doesn't respect your beliefs?
You need to ensure that first of all you respect his beliefs. Make sure that you aren't trying to bring him around to your point of view or wanting to change him. Doing that communicates disrespect and will most likely be responded to in kind.
So take a break from that kind of behaviour, if you're engaging in it, and then give it a month or two to reassess.
If at this point you are being respectful and accepting, but you're getting disrespect or behaviour where he is trying to change you in return, then I recommend using something called a shit sandwich to lay out your boundary on this.
A shit sandwich means expressing a boundary, but couching it in something nice either side of it.
Here's an example:
"You know how much I love you, you're such a great husband to me and father to our kids, but when you talk disrespectfully about my spiritual beliefs or try to make me agree with you on this topic, it hurts me and makes me feel disrespected. Could you please stop doing this? I trust that you will do as I ask because are such a great guy."
A shit sandwich involves starting with something nice, then inserting your boundary, then finishing with something nice. Prefacing your boundary with something pleasant means the person is more likely to respect it, and less likely to end up on the defensive. You also need to spell out how the behaviour makes you feel.
Set your boundary once via the shit sandwich and if he doesn't respect it, you have a problem. You will want to ask yourself whether this disrespect is also present in other ways in your relationship. If it is, then I suggest discussing these issues with a counsellor or psychotherapist so you can find a way forward.
Further Reading:
38 Signs of a Toxic Relationship & Tips for Fixing It
Pin for Later