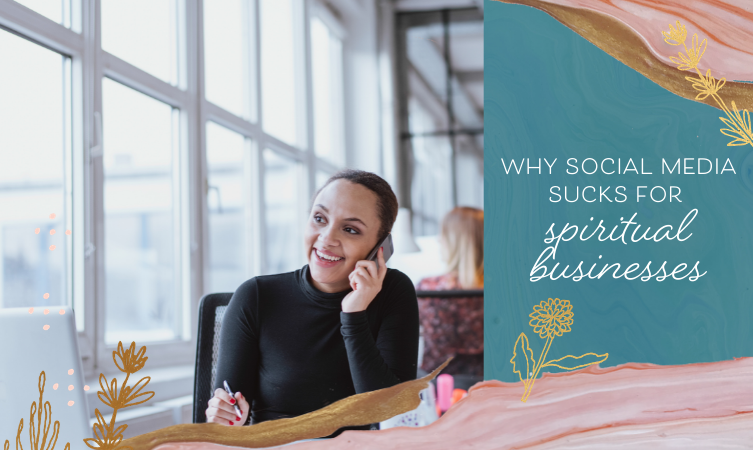 This is an article that is a bit different from my usual in that it's aimed solely at spiritual business owners and those who aspire to run their own spiritual business.
This post goes into the reasons I believe basing the majority of your marketing efforts (for your spiritual business) around Facebook or Instagram is a waste of your time. And why you can do much better focusing most of your energies elsewhere.
My social media accounts are not usually updated daily and they don't get a ton of love from me. I have 1,700 odd followers on Instagram and I have 12k Facebook fans (but this number has not grown at all in the last year, in fact it's fallen.)
However, my business is successful – at least in terms of my version of success – in that it makes enough profit so that I can meet all my financial needs with some to spare, and allows me to work part time (I worked an average of 2 hours per day in 2020). It's been like this for quite a while (I started my business in 2007).
So, I am here to tell you that if you are a spiritual business owner who is focusing most of your efforts or time on social media to the exclusion of other ways of marketing yourself, you should re-think.
(Just a note that when I refer to social media, I'm referring to organic reach, not paid ads.)
Here's Why I Do Not Prioritise Social Media As a Spiritual Business Owner
A large social media following often does not correlate to a high number of customers or reach
A case in point: several months ago, I was following the account of a popular intuitive reader. I say she was popular because she had over 10,000 followers on Instagram, lots of interesting posts which I enjoyed reading, and loads of comments and likes on her post. I was sad when she posted one day saying that she was shutting down her account as she could no longer make ends meet in her business after putting everything into developing her Instagram following. She had found a full-time job instead. Her lively Instagram account with lots of engagement was not even close to making her a living.
I was sad for her because 10,000 followers built organically is a huge achievement, a lot of work, and would ideally translate to an excellent community of people that you're serving not just with your free content, but also with your paid services. But a large social media following often doesn't translate to a profitable business, and I've seen this repeatedly.
Part of the reason for this is that when you get a new social media follower, for that person to keep seeing your content, they have to engage with your posts on a regular basis. I have had many people tell me that they followed me on Instagram or Facebook and found they never heard from me again. Instagram & Facebook decided I wasn't their thing, even if they had liked my page and told me they wanted to hear from me.
So, Facebook and Instagram are deciding what your customers do and don't want to see, and these algorithms are far from perfect. Remember also that these platforms can change the goalposts (aka algorithms) at any time and make it even harder for you.
It used to be easier to reach people on Facebook and Instagram, but over time they have made it much harder, in an attempt to generate more ad revenue. As an example, I recently posted a video to Facebook. I have around 12k followers and Facebook showed my video to 138 people in the first several days. 138! I am happy those people saw my video but for a business, that is not a good result. Whereas when I posted content on Facebook back in 2011, I would have several thousand of my followers seeing my content.
This is why 10,000 Instagram followers or 12,000 Facebook followers (in my case) means absolutely nothing. These days, they're largely vanity metrics and have little correlation to a spiritual business's actual health and success.
It is better to invest in platforms and ways of connecting with your audience, that you can control. 
You cannot control Facebook or Instagram's very imperfect algorithms and for this reason these platforms should not be a mainstay or the basis of your business. They should only be an add-on.
Something else to bear in mind is that social media sites can ban you at any time, for any reason, and they don't have to tell you why.
Several years ago I ran Facebook ads for my Facebook page. I received an email one day telling me that I had been banned for life from running ads on Facebook with my account. My ads had a low complaint/report rate so I thought this must have been a mistake. I brought it to Facebook's attention and asked for an explanation. They told me they would not be explaining why they banned me and that this was the end of the matter.
Here's another reason Instagram in particular isn't great for spiritual businesses:
Instagram favours content that is style over substance; stuff that is spiritually superficial. I'm talking spiritual posts that are aesthetically pleasing, trite or cliche, but light on substance.
Let's say that you write a high quality piece of content. Something that is meaty and substantial, meaningful, authentic, high vibrational, that your readers enjoy reading.
When I publish these pieces in my email newsletter or blog, I get feedback, emails and comments about them but on Instagram and Facebook they simply do not reach many people.
How can you have such posts reach more people on social media?
By dumbing them down. Make them into a sound bite. Make them more superficial or focus more on the aesthetics of what you're posting, and the more reach they will have in places like Instagram.
Or better yet, you can get naked. I'm not kidding: It looks like Instagram's algorithm systematically boosts seminude pictures. (From Business Insider Australia.)
A male friend told me that every time he goes into Instagram on his phone there's always cleavage, pouty lips, women's bottoms, or boobs in the top right hand corner. He finds it insulting as a man that Instagram persists in assuming this is the content he is interested in.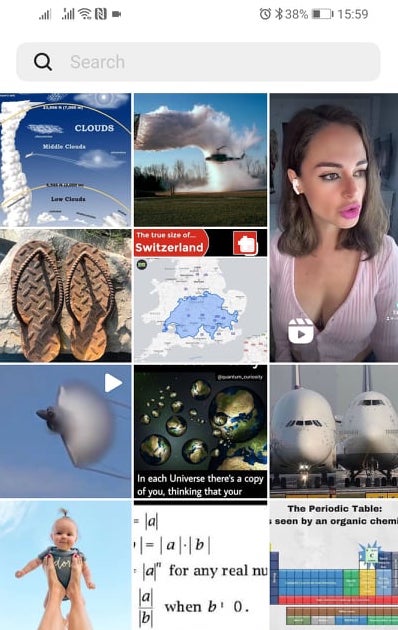 To sum up this article, I am not saying don't use Facebook or Instagram to market your spiritual business. As I've mentioned, I do use both. What I am saying is: don't make them the primary focus of your marketing efforts.