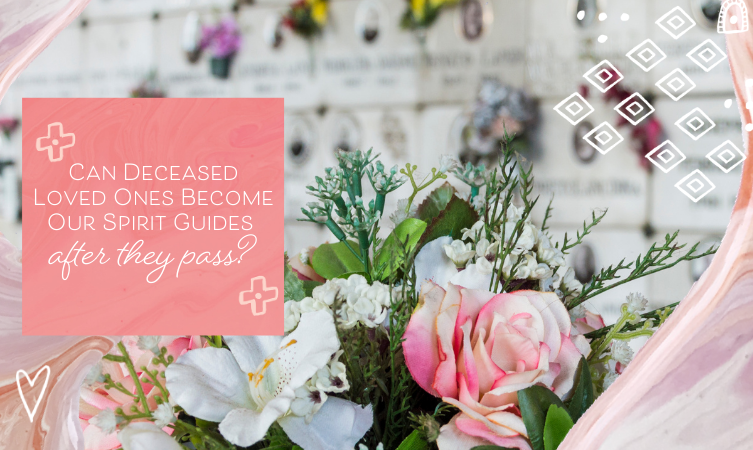 I wanted to answer this question on my blog because it is one that has often been asked over the years by students of my Intuitive Awakening Course.
Sensitive/psychic folks who have lost a loved one sometimes have the experience of sensing their loved one's presence around them.
This is very common, and I talk more about it in this video: 10 Signs Your Deceased Loved One Is Visiting You (& 8 Tips for Communicating With Them.
However, people sometimes feel that not only is their deceased loved one still around them, but their loved one in spirit is also now guiding them, just like a Spirit Guide would. When they receive guidance, it appears to be coming from their deceased loved one. And so they assume that this person is now their Spirit Guide.
So, that's why this question gets asked.
Here's my answer to it, based on some of the things I have channelled and experienced over the last 13 years:
It is of course possible for our deceased loved ones to communicate with us after they pass, and give us advice or guidance about our lives, but this doesn't mean that they are now our Spirit Guide. And this is not really something that occurs often — the graduation from being a human soul who often incarnates on Planet Earth to being someone's Spirit Guide overnight.
Here's why:
The path of Spirit Guide is separate and distinct from the path of being a human who incarnates on Earth for growth.
The vast majority of the souls who incarnate here on Earth are on a path of incarnating here repeatedly, in order to expand their souls. The way I see it is that we (our souls) are fragments of Source energy. Source (or God) is All That Is. God contains every energetic quality that exists in the Universe. (S)he is all of it.
We, on the other hand, are just fragments of Source energy who specialise in some energetic qualities and lack others. Our life experiences change us on the soul level and make us expand over time, and this is what it means to be a human soul who is dedicated to incarnating here, in order to grow.
Spirit Guides are also souls who have been on the path of incarnating on Planet Earth, but the difference is that they have also undergone extensive spiritual training in guiding other souls.
The purpose of a Spirit Guide is to help human souls who are incarnated see the bigger picture of their soul's mission, and achieve what they set out to achieve when they incarnated. It isn't an easy task, and so it isn't something that a soul will launch into overnight immediately after their last earthly incarnation. Spirit tells me that the process of becoming a Spirit Guide is involved and not going to happen overnight and it typically won't begin with a new Spirit Guide guiding someone they knew in their most recent earthly lifetime.
So if you're getting guidance and advice from a deceased loved one, this doesn't mean that they are now your guide.
They're just giving you their opinion the way they did when they were alive.
Something else you should be careful about is thinking that your deceased loved one knows best, just because they're in spirit. A soul who has passed doesn't necessarily become wiser than they were when they were in a body. Personally I think the advice that comes from our Spirit Guides or Higher self is in many cases going to be more useful than the advice that comes from deceased loved ones. It depends though.
The question to ask yourself is: How wise was this person when they were incarnated? Did they have my best interests at heart? Treat their guidance and advice the same you would if they were incarnated.
To illustrate this, I want to tell you about an experience I had with a deceased family member. I attended a spiritualist church a few years ago, and had a deceased loved one that I had never met weigh in on a family situation. The advice came through the medium, and it was clear and indisputable that the medium was connecting with this particular family member. However, the advice she gave was short-sighted, and honestly sounded a bit dysfunctional, in my opinion.
So don't elevate the deceased just because they're dead. Their opinion is just an opinion, and they don't necessarily have the special insight into your life path that your Spirit Guides do. Run guidance and advice past your discernment, as always. Keep what resonates with you and discard the rest.
Further Reading about Spirit Guides:
Pin for Later!