Well done to everyone who had a go at this experiment – some of you did well with this one!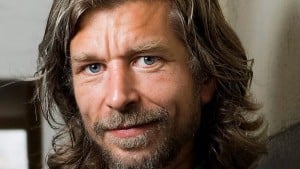 The man in the photo is
Karl Ove Knausgaard
, a novelist who is best known for his six-volume autobiography entitled
My Struggle
which was widely-read and critically acclaimed in his native Norway. The books have also been translated into 22 languages.
(Well done to those of you who picked up he was a writer!)
The autobiography caused some controversy and a media frenzy when it was published, due to its no-holds-barred exposure of his private life and the private lives of his family members. Knausgaard's autobiography is perhaps unique in the utter transparency and honesty with which he presents his innermost thoughts and secrets. Nothing is too mundane, intimate, shameful or dark to be omitted from the books.
Upbringing
Knausgaard was born in Oslo in 1968, the youngest of two brothers. His mother was a housewife and his father was a school teacher and local politician.
His fraught relationship with his angry and emotionally abusive father marred his childhood and he apparently spent much of his earlier years either in tears or in fear of his father.
When he was a teenager, his father left the family and moved in with Knausgaard's grandmother and proceeded to drink himself to death (he died when Knausgaard was 30.)
The author studied at Bergen University and did a series of odd jobs while he was pursuing success as a writer. He published two novels before writing his autobiography.
Personal Life
Knausgaard had a first marriage to the journalist Tonje Aursland but later left her. Both were unfaithful during the marriage.
Knausgaard fell for his wife, the poet Linda Bostrom Knausgaard, while still married to his first wife, but she rejected his advances at the time. In the book he describes his anguish at being rejected by her, purposely cutting his face with a piece of glass while intoxicated.
He met her again by chance after his divorce, and the pair got married. They had four children together.
His first wife did not know about the timing of his feelings for the second wife until the book came out.
Negative Consequences of the Book
An article in the New Republic sums up the central appeal of the book:
"Speak to Knausgaard's devotees and you will hear a persistent theme….that reading My Struggle is like opening someone else's diary and finding your own secrets."
Knausgaard says, however, that this transparency has come at a price.
Although his wife, brother and mother were supportive of its publication, both his ex-wife and father's side of the family were unhappy that their private lives were laid bare for all to read. His family objected in particular to the way in which his grandmother was portrayed in the book (as a senile, incontinent alcoholic who lived in filth and squalor). They threatened to sue him and his publisher and still refuse to speak to him.
Most of the names in the book were not changed, so reporters were able to easily track down the cast of characters (this was made all the more easy as they are the only Knausgaard family in Norway.)
In addition, his wife (who has bipolar disorder) relapsed into depression following the publication of the first book, and was also hospitalized while he wrote the final one. It was speculated that this was connected to the stress of his portrayal of her and their relationship in the books:
"I would have left her…because she was always moaning. She always wanted something else, never did anything to improve things, just moaned, moaned, moaned."
In an interview, Knausgaard expressed regret that the book impacted negatively on those around him. He admitted feeling that he had made a 'Faustian bargain' in attaining success by revealing so much about his relationships and those close to him. He also explained his motivations for writing such a revealing book:
"When I started out on My Struggle, I was extremely frustrated over my life and my writing. I wanted to write something majestic and grand…but found myself with this small life – looking after kids, changing diapers, quarrelling with my wife, unable to write anything really. So I started to write about that. During that process, I realized that this was material. I didn't like it, but still, it was something. Not nothing."
Karl Ove Knausgaard is the perfect subject for an intuitive experiment such as this, because there is very little we can't find out about his life – it's all laid out in his books, in great detail.
Character
Feelings of worthlessness and shame permeate My Struggle.
Knausgaard said in an interview with the Paris Review that he is full of self-loathing and feels "like a whore".
Here is my assessment of his character upon tuning into him energetically:
Sensitive
Extremely perceptive
Romantic
Easily wounded by criticism
Passionate
Prone to stress and anxiety
Capacity for tremendous focus and willpower
Intense
The writer Zadie Smith said in a review that she needs his books 'like crack'.
Another reviewer of the first book states that it is:
"Neither surpassed nor equaled… Beautiful prose and profound humanity."
I am reading Book One
of My Struggle and I have to say that I haven't found literature this addictive since reading Jane Eyre as a teenager.
How did you do with this experiment?
Did you learn anything about your intuitive process through this?