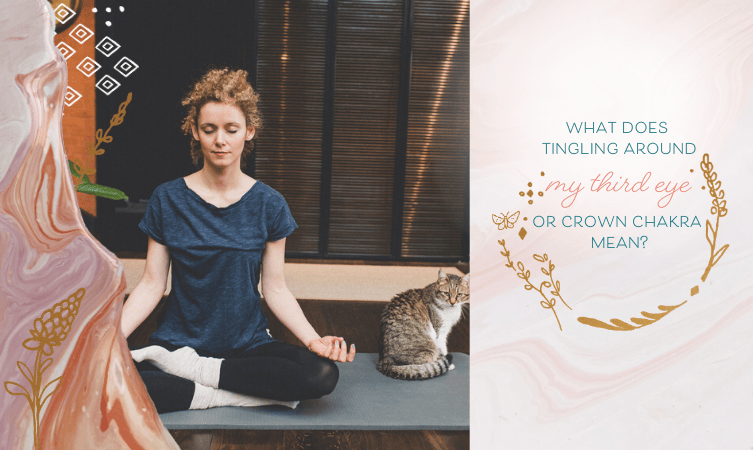 Updated 19th July 2022.
(Note: if you would rather listen to the answer to this question rather than read, scroll down to the bottom of this article for a video version of it.)
I received this question recently from a student, who asked why she feels tingling around her crown chakra and third eye chakra when she talks to her Spirit Guides, watches anything about mediumship, or meditates.
(Note – the third eye chakra is located in the area between your eyebrows, but it also encompasses the area around your eyes, forehead, and temples.)

Feeling a tingling sensation between your eyebrows, on your temples or forehead can mean one of two things:
It signals that your third eye is opening in that moment and being used. The third eye is the centre of our intuition and imagination. So activities such as meditation, visualisation, and intuitive development open up and 'exercise' your third eye chakra. If you are sensitive, you might feel the third eye chakra waking up – this happens especially when you are new to intuitive development, meditation or visualisation. You're using your third eye chakra in a new way, and you are sensitive enough to feel the energy opening up.
If you feel tingling in an ongoing way when you communicate with your Spirit Guides, or do any activity which utilises the third eye chakra energy, then the tingling may be your spirit guides' way of impulsing you. A way for them to say "hello, we are here" – it is a manifestation of your clairsentience.
Personally, I often experience a tingling sensation between my eyebrows when I open up to channel, and I really quite enjoy it.
What To Do When Your Third Eye Is Tingling
Nothing! Just be aware that your third eye is opening. If you're working on your psychic development, congratulations! Whatever you're doing is working. Enjoy it for the clairsentient signal that it is.
If the tingling is bothering you, ask your Spirit Guides to tone down the signals that you're getting from them.
Note that if the tingling is ongoing and you can't make it stop, this isn't a spiritual phenomenon you're experiencing, it's a physiological one. Sometimes tingling on the face can be a side effect of medications or herbal remedies. It can also happen in menopause due to low hormone levels. Remember that Spirit does not harass us, so if it is a nudge from your guides, the tingling should be intermittent, not ongoing. If it's ongoing you're looking at a different issue altogether.