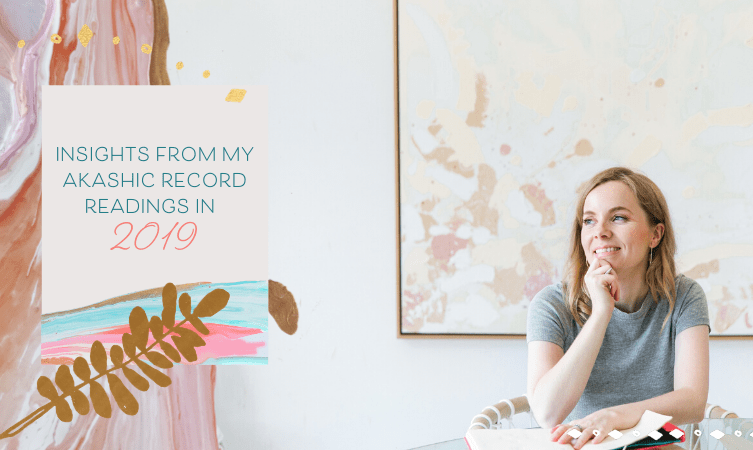 As an intuitive, I'm a bit different from most. I don't do Tarot readings, angel card readings or straight channelling. Instead, my specialism is doing Akashic Record Readings. This means that I access clients' Akashic soul records to gain insight about the client's past lives, life lessons, soul purpose and gifts. At the moment I only do email Akashic readings and I currently deliver my findings in an email report that is typically between 15 and 20 pages long.
Over the course of this year, I've done lots of these readings in various permutations. (I've done long Akashic Record readings, mini Akashic Record readings and also career readings based on the Akashic Records.)
It has been really interesting completing these client readings, and so here are the things I've noticed and insights I've had as an Akashic Record reader this year:
1. Clients from the same soul groups seem to show up all at the same time
(Go here to find out more about what a soul group of origin is — there's 23 of them that I know of.) In previous years, I've had a lot of Blueprinters and Sirians. This year I've seen a lot of Spicans and Vegans. I'm not sure as to why this is — are the various soul groups becoming more spiritually aware in synchronised groups?
2. I still hardly ever see certain soul groups
I've been reading for 12 years, and I only ever read for one Polarean 12 years ago (to give an example.) I've noticed that some soul groups appear to be drawn to me as a reader and others seem to avoid me, choosing to get readings with people I've trained, instead.
3. I believe the current knowledge we have on the various soul groups is the tip of the iceberg.
A case in point: I discovered a sub-group (Spican 2) within the wider Spican soul group this year (Akashic Record Reading Program students — more on that in the course forum.)
4. Peoples' unusual lifestyle or work choices can sometimes be explained by their soul group of origin
If you see someone living an unusual kind of lifestyle or with an unusual job, and you wonder what the appeal of that lifestyle/work is, chances are, it could be linked to that person's soul group. It's hard to say more about that without going into particulars, but I have seen on a few occasions this year, people with unusual lifestyle choices that were explained by their soul group of origin.
5. Sometimes Spirit pulls us onto another path, kicking and screaming
I've done multiple career readings this year for people who were forced out of a job, made redundant or fired, and when we measured how aligned the work they were doing was with the person's soul gifts, it turns out the alignment was not good. I therefore tend to see these events where you are forced to change your career or job suddenly, as divinely guided. It can be the Universe pointing you towards a totally different path, perhaps this involves taking a leap towards self-employment in the same field, or perhaps re-training in something else. The fact is, many of us do not like change and sometimes have to be forced onto a different path in an uncomfortable way. Don't fight it.
6. That Archangel you called on repeatedly 10 years ago is probably still with you
As part of my Akashic Record readings, I look into the Divine-level beings (i.e. Archangels, deities and Ascended Masters) that are around a client. To give an example, if you're calling on Archangel Michael for protection on a regular basis, his energy is likely to show up around your auric field. I've had many instances this year where I've told a client about an Ascended Master that is around them, that they haven't called on for many years. For example, you were a Buddhist 20 years ago, but no longer are — but Ascended Master Buddha is still with you. This shows that when we call on an Ascended Master regularly and build a relationship with that Divine level being, the energy of these beings can stay with us in a long-lasting way.
7. Sometimes couples get together and stay together because, on the soul level, they have similar

life lessons

to learn…
…and this means that they would benefit from walking a similar path and going through the same experiences together in this lifetime.
8. The most common life lessons I saw this year in my readings were…
…Success, positivity, surrender, patience, self-love and gratitude.
9. Some souls incarnate here more than others do
I've read for people who have only had 20 odd earthly lifetimes and souls who have had 130 + lifetimes. So, some souls lack experience being here on earth. It doesn't mean anything about that soul's level of evolution but a soul with fewer lifetimes does tend to be less "streetwise" when they are incarnated.
10. Often in this lifetime, we are the total opposite of who we were in our most recent past lives
For example, if you beat up your wife in your last lifetime, in this one you may be a lawyer specialising in helping abused women. Or someone who was a prolific user of prostitutes in one lifetime may be a campaigner against prostitution in their current lifetime.
11. I have come to believe this year that learning our life lessons not only helps us to evolve as souls…
…but also raises the vibration of Earth.
12. Past lives tend to be mundane
(and yet also sometimes extraordinary in small ways.) We obviously couldn't all be Cleopatra or Marie Antoinette — the most common past life roles (i.e. lifetimes chosen again and again) that I've seen among my clients are: farmer, nun/monk, mother & wife, patriarch & pillar of society, and artist/craftsperson.
So there you go — what I've noticed from my readings in 2019. I'm looking forward to more insights and interesting client cases in 2020.
Thanks for reading and I hope you have a great 2020!