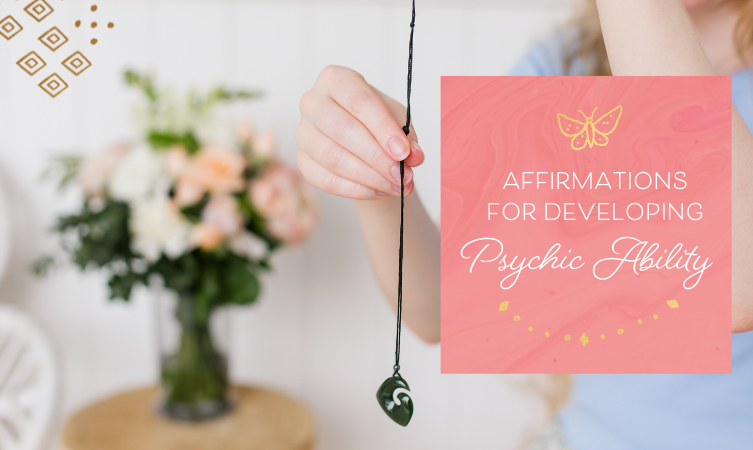 Would you like to develop your psychic abilities further? 
One half of your success in this endeavour will come from taking action on your goal. And the other half involves adopting the right mindset and aligning yourself with a reality where you are already in tune with your natural psychic abilities. 
One of the ways you can do this is through affirmations. 
Here are some tips for using affirmations:
When you say them, claim them as true. Everything you say is powerful, like a spell. Whatever you claim as true is where you are headed in your life. Therefore, say affirmations as if you are celebrating them as fact, and in this way you are moving yourself onto a 'lifeline' where this is true for you
It can be helpful to memorise a few affirmations that really speak to you and say them throughout the day, to help put you in the state of "the wish fulfilled"
You could also just sit down and read the affirmations out loud in one go
Don't worry if you can't connect with the wish fulfilled immediately — just keep using the affirmations and you should see a shift
Affirm every day even if it is just for a few mins, and ideally for a period of months — don't expect your manifestation to arrive overnight. Occasionally this can happen but my experience with using affirmations is that it can often take longer.
Remember that the only purpose of affirmations is to put you in the state of the wish fulfilled. Psychic abilities are already yours. You already possess them! It is done that you are a powerful psychic. 
Here are the affirmations:
I am a powerful psychic
I love feeling so connected to my higher self
I always know the right steps to take based on the guidance from my higher self
My higher self and guides speak to me in dreams, using amazing metaphors
I feel in awe of this amazing guidance system I am equipped with
Using my psychic ability is my birthright
I feel totally on track with my soul's purpose
I love having an expanded perspective on life and on my reality
Mystical experiences are abundant in my life
I love being able to channel my higher self and Spirit Guides on demand
I love feeling the presence of the angels around me 
My intuition is so clear and easy to understand
I am able to easily enter the alpha state at will
Synchronicities and signs are abundant in my world
My intuition guides me towards the right tools, mentors and resources
My spirituality is a source of wonder and connection in my life 
I can easily turn my psychic abilities on and off
The mystical reveals itself in my life, in amazing ways
I have always been adept at reading people and situations
I am a piece of the Divine, profoundly connected to all of life
I enjoy exploring my psychic abilities, in a light-hearted way
I love the Spirit world's sense of humour
My psychic abilities are a source of safety and security in my life
I feel supported by the Universe
My psychic abilities cause my faith in life and the Universe to grow.

If you'd like more information on how to use affirmations to manifest psychic abilities or anything else in your life, check out this article: Affirmations – Using Words to Manifest Your Ideal Life.
And if you're interested in developing your psychic abilities further, check out my online Intuitive Development Course, Intuitive Awakening.