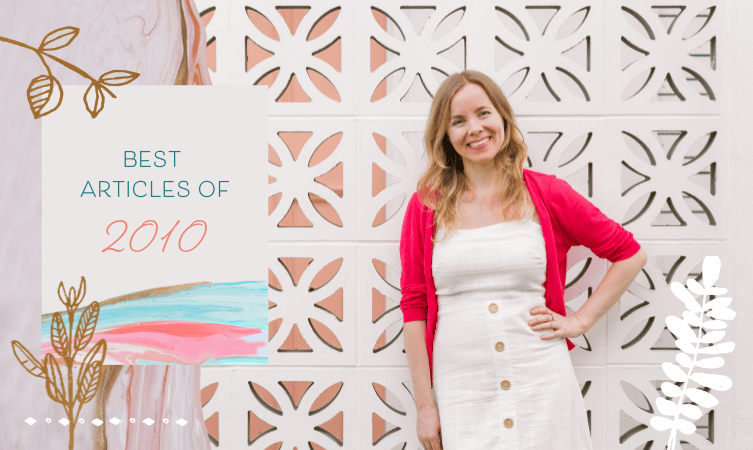 In case you are new to this blog, or don't have time to scour the articles page to find the best articles, here is a list of the best blog posts of 2010 (or at least, my favourites):
How your Personality Flaws Point to your Soul Gifts (anti self-development)
The Simple Truth about Life Purpose (it's not a big mission, in my opinion)
Life Is Not Such a Bitch After All (Probably my biggest personal epiphany of 2010)
The Dark Side of Spirituality – My Past Experiences with Fundamentalist Spiritual Teachers (The cultish tendencies in new-age circles)
Signs that You're an Empath (Can you relate to any of these 14 characteristics?)
When it Hurts to Read the News (why a news addiction can be toxic for empaths)
Positive Thinking & The Law of Attraction – a one size fits all solution that sometimes doesn't work – (How Law of Attraction teachings can be misleading)
Does Developing Psychic Abilities Send You To Hell? (my Christian journey to hell and back, during my student days)
Mysticism and Mental Illness (the difference between psychic phenomena and mental illness)
How Far Out Of The Psychic Closet Do You Want To Be? (my experiences coming out of the psychic closet)

Choosing my favourite articles of 2010 allowed me to see an overview of the path I travelled in 2010. 2010 was the year I juggled my teaching job and this website (which I am no longer doing – thank God…it was unsustainable). It was also the year I left Australia, came to New Zealand to settle here. In 2010 I also launched the hugely popular cord-cutting sessions (which now outnumber the readings I do in terms of volume). It was also the year I created the Intuitive Awakening Course.
For 2011, I only have one project in the offing – to release my Akashic Record Reading Program in the summer and I am really looking forward to writing the course that I would have done had it existed.
I spent three and a half years collecting skills, discarding things that didn't sit right with me, and even discarding some things that simply didn't work. I kept (and refined) the things that did work. I spent a lot of money and time doing this and I hope to save students time and money by teaching them the best of the skills I've collected, without any of the mistakes, twists and turns that I went through.
Thank you so much to all readers and commenters for reading and sharing your thoughts here in 2010. Your comments have given me inspiration and food for thought and being able to share my experiences on this blog with like-minded people has brought me a lot of joy.  I may not have time to reply to every single comment but I enable them all personally and read them all.
I wish all readers a happy and prosperous 2011!