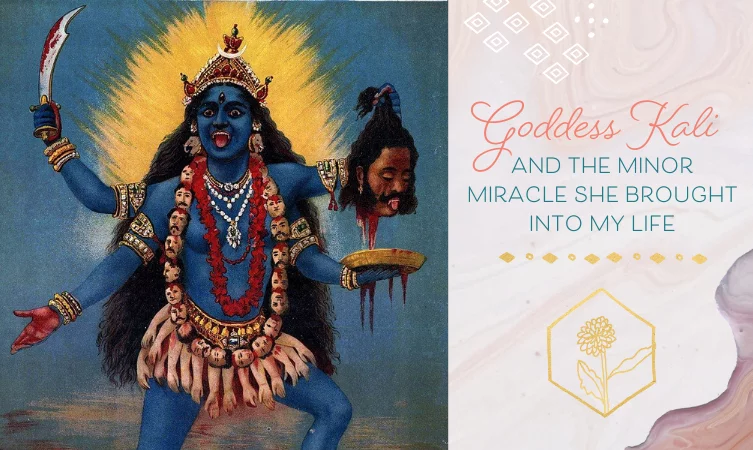 Earlier this year, I had a problem with someone in my daily life (a neighbour) who was harassing me at my home. I felt I couldn't relax at home anymore and I was so wound up.
I had tried everything to get it to stop. I had sent a letter asking him to stop.
I had refused all interaction but it was still being forced upon me. I called upon Archangel Michael to not allow this person near my home. I'm not sure if Archangel Michael was busy with other things that day, but it didn't deter him.
I realised that I was going to have to involve the police and/or move away in order to be free of this behaviour. I have only been in this house for just over a year and I was not ready to move again.
Out of desperation, I called on the Goddess Kali, the dark mother.
Kali is the Hindu Goddess of time and death. She is depicted in pictures as a savage female warrior. She has her foot on the chest of the Hindu God Shiva and she is holding the severed head of a man, plus she's wearing a necklace of severed heads and a belt made of severed limbs.
Although I've always felt a connection to Kali (maybe from my many past lives spent as a Hindu), this is not a Goddess I call on that often because quite frankly, she is a bit scary. I know her as the Goddess to call on when you want to nuke something in your life and you're not messing around.
She represents female power and destruction. She helps you protect yourself against evil (although I'm pretty sure the person harassing me was not evil) and she will help you to destroy what you no longer want in your life.
So, I called on Kali and I did a protective blessing again around my home, as taught in my Energy Clearing for Spaces course. As soon as I asked this, I saw a vision of someone putting a ring of fire and severed heads on spikes all around my house!
The harassment stopped the next day. It's been several months now and this person has not only stopped harassing me but is actively avoiding me. Magic! It was as if I had literally stuck heads on spikes outside of my house.
It's clear that this is the Goddess to call on when you're very tired of a particular someone's B.S. She helps women to say "enough" and mean it, and take action on it.
Who should call on Kali & for what situations?
When you're a gentle soul who dislikes conflict
When you want to gain courage and confidence
When you don't feel good enough or worthy
When you want to tear down structures in your life
When you have trouble with boundaries and say 'yes' when you really mean 'no'
When you let men or a particular man walk all over you
When you have been abused by someone and need strength to get justice
When it's time to take what's yours
When you feel like you somehow need permission from someone (maybe you don't even know who!) in order to go after what you want in life
When you keep putting up with someone's B.S. and accepting the unacceptable
When you need to find the strength to walk away.
Kali is an empowerer of women. She has many sides to her. The fierce, bloodthirsty avenger is perhaps the most well-known side to her because that is how she is depicted in images. She is also known as a compassionate, loving mother.
So many of the women I've worked with suffer from a feeling of not being good enough. I think that this is partly a consequence of the culture we live in, and Kali can help with this, because Kali wouldn't even know how to care about what others think. She is pure being, unfettered by self-consciousness.
Kali teaches us that we are worthy and good enough, if we say we are. Our worthiness is not something that needs to be proven by a person. It just is. It's like a gift that is sitting there in front of you and has always been there. All you need to do is take the gift and it is yours. You give it to yourself. This is Kali's message.
How to work with Kali
1. Towards the end of this article, I give a really basic process you can use to call on any Divine being (i.e. a Goddess, Ascended Master or an Archangel), including Kali.
2. I have also been listening to this mantra on YouTube. If you listen to it while meditating or doing yoga, it can help you to embody some of Kali's ferocity and tap into your own strength and courage.
3. If you've been trained by me in intuitive healing, Kali is a good choice to call on for cord cutting, for some of the situations I mentioned above – for clients who are putting up with the unacceptable and want to leave a bad relationship behind.
As a side note, if you're interested in working with the goddesses, Archangels and Ascended Masters to help people heal (or to heal yourself), you might want to check out my Intuitive Healing Program, which opens its doors a bit later this year for the final time. If you get on the wait list, I will email you as soon as it does open.
Have you worked with this Goddess before? I would love to hear your experiences with calling on this Goddess.