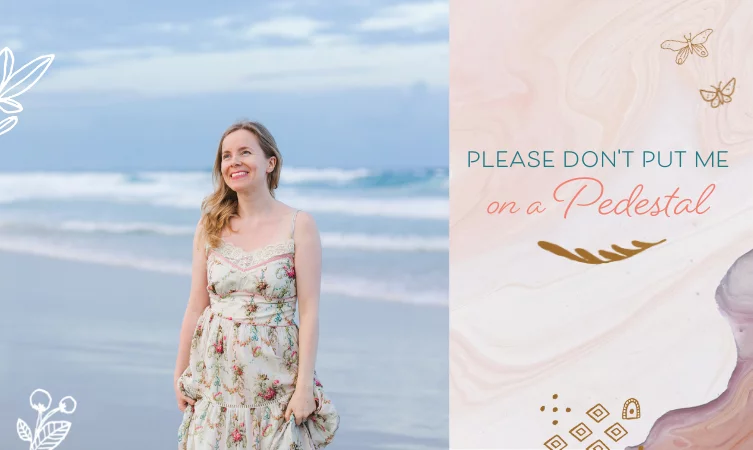 Recently I wrote an article which explains why I've been off work for the last few months. (If you haven't read that article, you can read it here.)
In short, I had a life-changing medical diagnosis and I'm busy working on changing myself, my habits, my environment, my self talk, my beliefs, my thoughts and my emotional state, in order to be healed.
In this post, I wanted to respond to a piece of feedback in the comments section and share my reply here, because I realise I haven't shared the backstory of how I developed this illness, and I want to do that.
Here's the feedback (which I've shortened for brevity):
Hi Anna,

This is very disheartening (that you have developed lupus). I thought you were the most energetically clear person I have come to know because you possess all the healing modalities for yourself and others. On top of that, you know what you are and what you have been at soul level.

Now after reading your account, I am discouraged to know that healers/knowers/Realized ones suffer more than or similar to ordinary persons who only have 3D survival instincts without bothering least about their soul origins, chakra balancing, PLR, cord cutting, 3rd eye opening, kundalini activation, accessing akashic records, crystal healing etc. etc.

In my opinion (which has become strong now after seeing many lightworkers whose blog I follow), by practicing all these modalities, healers become imbalanced in their physical and non-physical bodies and lose grounding like you said – you found your energy body totally empty.

Although your account is honest but somewhat pointing towards the hopelessness and emptiness of these healing methods, rather they are risky and harmful after prolonged usage/practices.

Wishing you speedy recovery and normalcy.

Best regards, Honey
Here's my response:
I feel the weight of your expectations and disappointment in what you wrote. I ask that you please knock me off any pedestal you may have put me on, because I have struggles, just like everyone else. I have been clear about this in my past writings.
Having a clear energetic field is not the same as having an empty energy field. My energy field may be somewhat clear but it hasn't been full of vital life force in the last few years.
You also couldn't be more wrong in your assessment that all the healing modalities that I've done, have harmed me.
Here's the wider perspective on that:
I had a dysfunctional childhood and adolescence, with abuse, emotional neglect and trauma. I have an ACE score of 7, which is fairly high.
(ACE stands for Adverse Childhood Event. The ACE score is a measurement of adversity that is encountered during childhood. You can find out more about it here.)
Here's an excerpt from an article about ACE's:
"Experiencing 4 or more ACEs is associated with significantly increased risk for 7 out of 10 leading adult causes of death, including heart disease, autoimmune disease, stroke, cancer, COPD, diabetes, Alzheimers and suicide."

"Risk for the 80 or more types of autoimmune diseases increases as ACE scores rise. For every increase in the ACE score of 1 point, risk for developing an autoimmune disease such as type 1 diabetes, lupus, rheumatoid arthritis and many others goes up by 20%."
Researchers have found that having experienced a lot of childhood adversity causes many problems later in life, including health problems, unemployment, homelessness, substance abuse, violence, and a shortened lifespan.
With an ACE score of 7, my risk of developing lupus is 140% higher than someone with no ACEs and my lifespan is at high risk of being shortened by 20 years.
I was one of 5 children. My older brother became a heroin addict and died early (he was diagnosed with narcissistic personality disorder when he was in prison, and he was abusive towards me growing up.)
Some of my other brothers have also struggled with serious substance abuse issues. One of my parents has issues with substance abuse and was emotionally absent, the other was narcissistic.
People who grow up in a childhood situation like mine do not tend to do well in life. Later in life they are often unemployed, in an abusive relationship, ill, and/or struggling with substance abuse.
I've defied the odds and broken the cycle of dysfunction and abuse I grew up
with.
I do not struggle with substance abuse. I do not get into abusive relationships (although I used to when I was younger). I am not unemployed. I completed my education. I'm surrounded by emotionally healthy people and have some pretty great relationships. I managed to answer the calling that Spirit gave me and found the courage within me to choose quite an unconventional career and be successful & visible in the (sometimes cruel) online space, which is no small feat, especially for someone with zero family support.
Do you think I managed to do the above without modalities such as psychotherapy, EMDR, past life regression and cord cutting? No, those things helped me greatly over a period of 20 or so years.
Therapy allowed me to understand what happened to me and it (along with cord cutting) helped me to stop choosing abusive relationships when I was in my twenties. EMDR gave me invaluable insight into my subconscious programming and has allowed me to shed some of it. Past life regression has stopped my recurrent nightmares. Both therapy and cord cutting gave me the courage to be visible in my career.
I do however still have a tendency to live in the emotions of stress, and this is likely due to how my brain developed as a child and the environment I lived in.
I also experienced significant stress as an adult that impacted my health – problems with siblings, my brother dying of substance abuse, a parent struggling with substance abuse, and a deadly earthquake, amongst other things.
In the 9 month period before I became ill, there was a situation in my family with one of my siblings who was in an abusive relationship and around the same time, narrowly avoided prison due to drug related crimes. I was his main emotional and financial support (this support enabled him to complete rehab, which is what allowed him to avoid prison) and it took a huge toll on me.
I was tearing my hair out for months on end (because addicts don't fully take responsibility and tend to ask those around them to rescue/enable them, and navigating this was very stressful) and this is a big part of what triggered the illness and thoroughly emptied my energy body of the remaining vital life force energy I had left.
In addition, around this time I completed 34 sessions of EMDR, which meant reliving a lot of past trauma in order to heal it, and I did not have the energy to do this, but I pushed through regardless.
(Just a side note also that I did not say that therapy, EMDR or past life regression are worthless. I said they have value as long as you are not chronically ill. But if you are chronically ill, use with caution and perhaps wait until you are better to benefit from them. I will be doing more past life regression when lupus has permanently disappeared from my body, which it absolutely will.)
It's been hard for me to completely escape my past but I made the decision to end all immediate family relationships for now (except the ones with my nieces and cousins) so that I can stop living in the emotions of stress, while I heal.
And I'm proud that I've broken the cycle of trauma, abuse, narcissism and substance abuse, that goes back many generations and I'm proud of all the healing I've done.
This past story of childhood trauma and adversity is in the past. I've released it.
The lupus, as far as I'm concerned, is just a hangover from having dealt with so much emotional stress over the years, and it is in the process of being kicked to the curb.
I hope this gives you the wider perspective on my health problems.
Lupus is a gift from Spirit, who is effectively saying, "you have done a lot of healing, but you've become stuck recently in your negative beliefs, emotions and thoughts. Here's a reason & motivation to do a different kind of healing."
The various modalities I've used have mitigated the effects of the stress on my body and soul, but ultimately, when you get to the kind of place I've arrived at (health wise), the best way to stop living in the emotions of stress is to do a long-term program of brain retraining, such as DNRS.
Honey observed in her comment that many light workers and healers appear to be susceptible to developing health problems. This is true, but it isn't because of their work or because they practise or have used lots of healing modalities.
The reason for this tendency is because many light workers, psychics and healers were abused and traumatised children. When a person is traumatised and it keeps happening, that person often learns to dissociate, which means that your consciousness exits your body and you become more attuned to the energetic realm in doing this. Such a person is then more likely to use these skills later in life, in psychic and healing work, simply because they have developed them. I talked more about how this occurs in this article:
P.S. Here's a page where you can take the ACE quiz in case anyone reading is interested in doing that.