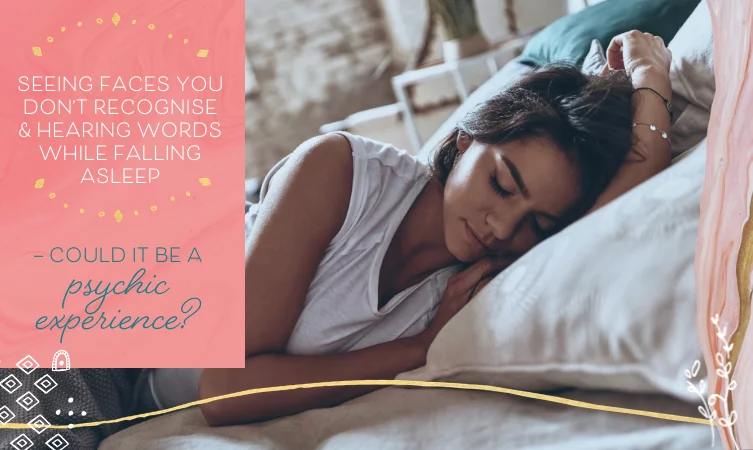 Hi Anna, I often hear songs and words when waking up. I also see faces I don't recognise when falling asleep. I wondered if the words could be from my Spirit Guides or angels, or the faces could be them. Or maybe it's just a hallucination. Do you think this sort of input could ever be spiritual or psychic in nature and how would I know?

– Nicky
Hi Nicky,
Seeing faces & hearing words or songs is actually quite common when you're either going to sleep or waking up. It's hypnagogia – when it happens when you're going to sleep – and hypnopompia, (when waking up) and loads of people have experienced this. According to this article, 72-77% of people experience it. 
Therefore, I would not necessarily class this sort of experience as spiritual guidance, but at the same time it can be one way that Spirit communicates with us because as we're falling asleep or waking up, we are in an altered state that makes us more open to having a spiritual experience.  Below I talk about some conditions that make it more likely Spirit is communicating with you during these times:
1. You are developing your intuition or you have established skills as a psychic
If you are already very open to the spirit world or you are in the process of opening up psychically, it is more likely that the input you experience before sleep or waking is spiritual in nature.  I occasionally receive guidance when falling asleep or waking up, however it's worth noting that I also remember having had auditory hallucinations that are not spiritual in nature.  If I do experience something spiritual when falling asleep, it's usually in the form of a vision.  As an example, several months ago while falling asleep, I was given the information that a single friend of mine had just met his beloved. I saw the pair of them together and the info woke me up. I smiled and then went to sleep. The next time I met up with him he told me he met a woman and they had really clicked. She became his girlfriend.
So, if you're someone who already gets spiritual guidance in other ways, this is one more way that Spirit may communicate with you. But if you're someone who is closed off to guidance and doesn't believe in Spirit, it's less likely you'll receive info this way.
Let's have a look at another condition that makes it more likely that for you this input is spiritual in nature:
2. You have received spiritual info this way in the past and you have been able to verify it
If you have received psychic info in the past while you are falling asleep or waking up (and it turned out to be correct, as in the example I gave above) this is a sign that you are someone who is energetically open during these times, and so you can consider any hypnogogic experiences possible psychic ones, wherever there is some sort of guidance or message you can take from it.
A Further Note on Seeing Faces When Falling Asleep or Waking Up….
If you see faces you don't recognise as you're falling asleep, this may mean that you're just having a hallucination or it could be that you're tapping into the presence of earthbound spirits in your vicinity. (Note that you're more likely to be picking up on earthbound spirits if you have had psychic experiences in the past when waking up or falling asleep, or you're someone who is already open to Spirit.)
When I've cleared spaces I've often found earthbound spirits in homes and other spaces. In my experience, it's actually rare to find a home that doesn't have a spirit either attached or passing through, so this is definitely a possibility if you're energetically sensitive.
I used to house sit and travel full time and it was very common for me to be falling asleep but woken up by the awareness that I am seeing a succession of faces I'd never seen before. When I would clear the energy of the space I was staying in, these experiences would not happen, which is why I tend to think these faces that you're seeing could be earthbound spirits. If you're interested in learning how to clear your home energetically, my online course Energy Clearing for Spaces is recommended.
In conclusion, for anyone who doesn't fit the two conditions mentioned above:
(1) You are developing your intuition or you have established skills as a psychic,
(2) Or you have received spiritual info this way in the past and you have been able to verify it…
…I'd say it's less likely auditory or visual hallucinations before sleeping and waking are actually spiritual in nature.
Have you had this experience before? Feel free to leave a comment if you have something to share about it.