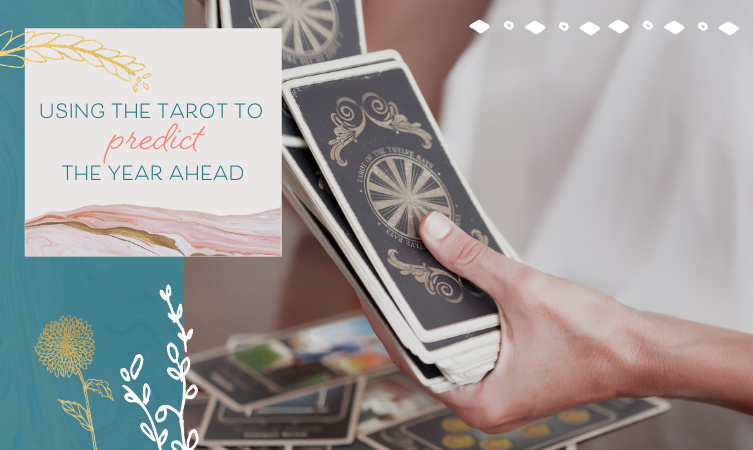 I love the Tarot.
One of the ways in which I use Tarot is that at the start of the year, I tune into Spirit and pick one card which sums up the over-arching theme of my upcoming year. Me and a friend do this together and it's always interesting to see what comes up and how the theme of the card plays out over the course of the year. 
I like doing this because if I were to ask outright, what's going to happen this year? Spirit is not going to tell me. But they will speak to me in symbols that hint at the future (through the Tarot.) And I don't know the details of how exactly it will pan out, or whether they're talking literally or metaphorically, (or if they even know what I am going to decide to do) but it is fun to see how it plays out.
At the beginning of 2020, I got the 6 of swords. A woman making a sad journey over water. It was accurate in so many ways. I literally made a kind of sad journey over water. In the middle of that year, I left my life in the Northern Hemisphere behind to go live in New Zealand. It probably wasn't a decision I would have made right at that time if it hadn't been for the pandemic. That happened right in the middle of that year and everything before and after it revolved around that journey.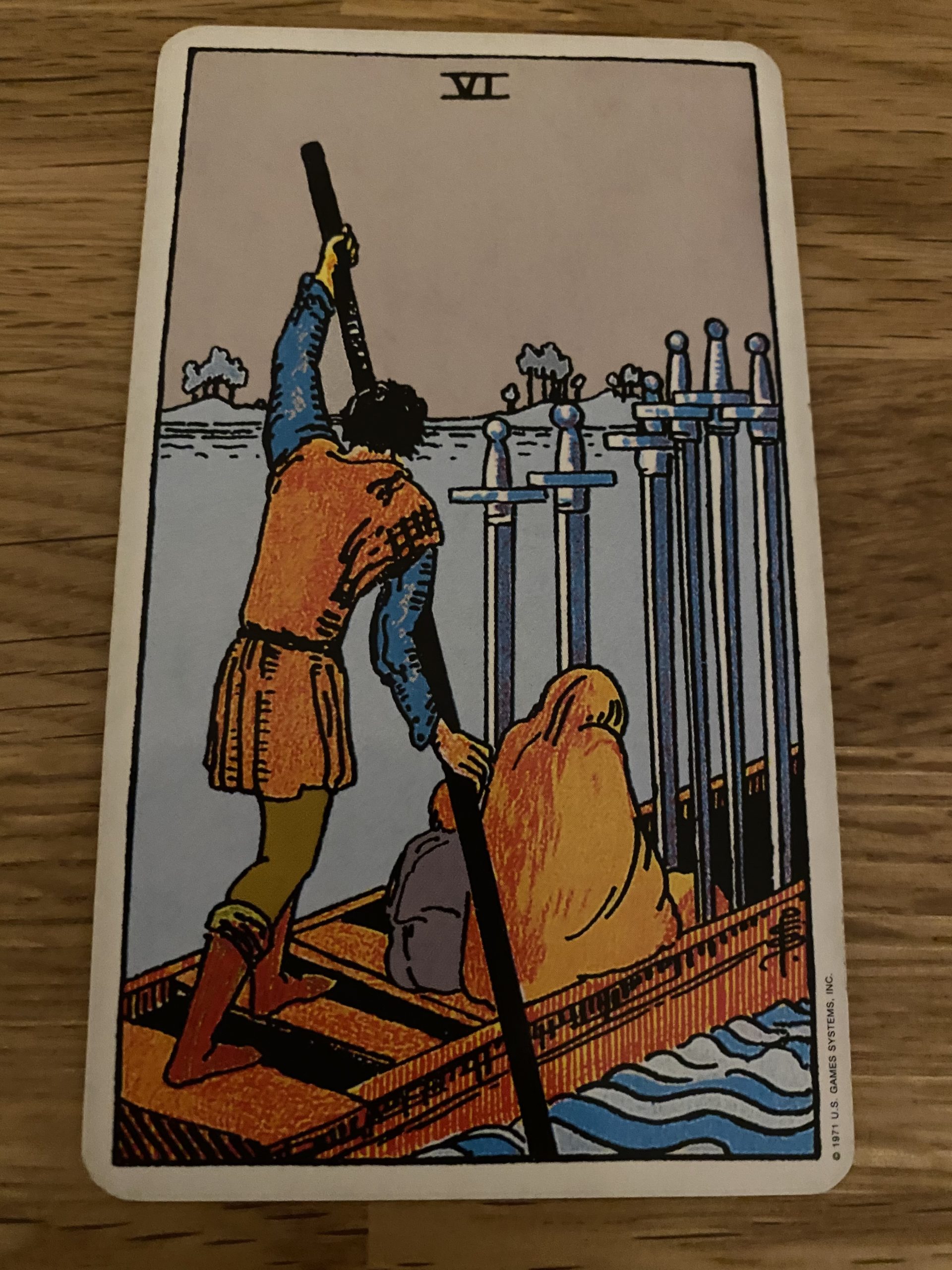 The card for this year was the 6 of pentacles, which is the card of giving.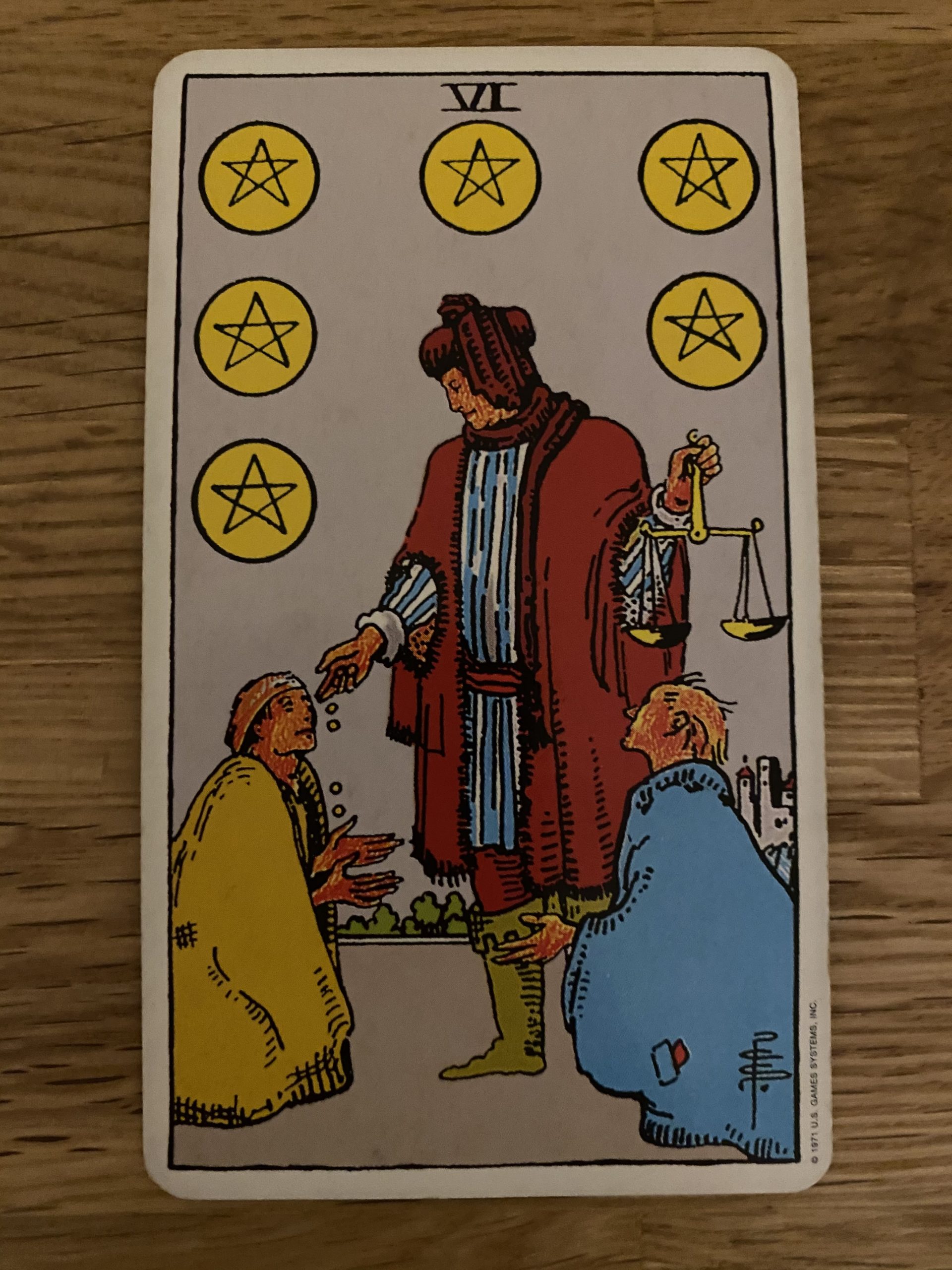 The year is not over yet, so I can't fully know how this will play out, but my guides told me that this is very much about passing on the knowledge I've been gathering over recent years, in the form of my Intuitive Healing Program.
I have to say, I am feeling a sense of completion as I get ready to pass this information on, and that sense has been a long time in the making. 
My work takes a lot of time to create. My Akashic reading email templates took me 13 years. My book for empaths took several years to write. The healing course I'll be teaching at the end of this month took 10 years. That's how everything happens for me. Spirit gives me a new piece every now and again, or I get a new insight periodically about how it all hangs together and needs to be passed on, until it eventually comes together.
Everything has an incubation period and so my work is deeply considered over a period of years, rather than hastily put together. It also gets tested and refined over time.
(If you are interested in joining me for the Intuitive Healing Program, just a reminder that you can sign up for another 17 hours.) 
And if you enjoy divination, why not try picking a Tarot card at the beginning of the year. It isn't too late to do it for this year. I learn a lot about the various cards when I do this each year. 
Here's my process:
I call on my Spirit Guides out loud to give me a helpful message about the upcoming year and its major, overarching theme
I take 3 deep breaths
I also do a quick process to connect to my guides that's detailed in my Intuitive Awakening course (but you can also skip this part)
I shuffle the cards, spread them out and see which one I'm most drawn to
I look at the card and see what I notice about it. I'm claircognizant so seeing the symbols on the card means something is going to pop into my mind, even if I'm not too familiar with the card in question.
It's a good process to have a go at, if you want to hone your claircognizance.