I've had quite a few questions recently about my Professional Intuitive Healing Program, and I thought I'd write a post to cover them in detail in case anyone reading has had the same questions. Here they are:
1. How does the program work?
It's a live class taught over Zoom. There will be one or two calls per week. They will be at 12.30pm New Zealand time on Wednesdays (this is 6.30pm Eastern on Tuesday). If there is a second call, it will be at the same time in the weekend. The calls will take place over 2-3 months and there will be at least 9 calls lasting between 1 and 2 hours long.
I will be sending a detailed write up of the material covered after the call along with cheat sheets of the various processes (there's around 40k words altogether to be sent to students.) This is something you can refer back to. If you can't make the calls, you can listen to the re-plays.
There are two levels to the course – the 'Apprenticeship' level and the 'Independent Learner' level. All Apprenticeship spots have been filled, but there are Independent Learner places remaining. The Apprenticeship comes with a lot of one-on-one mentoring and it is more expensive. The Independent Learner doesn't come with any one-on-one mentoring, hence the lower price.
2. I'm a professional healer. Can I still practise with clients and offer these sessions to the general public if I do the Independent Learner level?
Yes, you can. You won't be certified or be eligible for listing in my practitioner directory, but this doesn't stop you practising, if you wish.
3. How much does the course cost and is there a payment plan?
The course costs $1200 USD. And yes, I am now offering 3 and 6 month payment plans.
4. Is there a time limit to the course?
The written materials and class re-plays are yours to keep forever. They never expire.
The Independent Learner level comes with 3 group calls, which take place 2, 4 and 6 months after the live classes finish. If you have questions, you can submit them ahead of time and I'll answer them on the calls. Either that, or you can show up to the live calls.
I will also be answering apprentice questions on the Zoom calls publicly, so you benefit from hearing the answers to other peoples' questions, too.
So if you have questions you need to ask them within the first 9 months of the program.
5. When are the calls?
Most of the calls will be at 12.30pm NZT on Weds (6.30pm Eastern on Tuesdays). If you cannot make the calls you will get a re-play to listen to.
6. Are you going to offer this course again?
I'm not sure what my long term plans are for this material yet. I take my instructions from Spirit and I don't have them yet for next year.
7. I'm a total beginner / not that intuitive. Will this course be too advanced for me? Am I going to be OK with the intuition part of "intuitive healing"?
I can teach you techniques which mean you can intuit on behalf of clients in a healing session, without having developed your intuition to a high level. You can find out more about that here.
If you're worried it will be too advanced, you may also want to sign up for my Intuitive Awakening Course and do it concurrently. That is a 3 month course so you have time to complete the Intuitive Healing program, if you do them one after the other. I can give you 50% off Intuitive Awakening if you sign up for the Intuitive Healing Program at the same time. This is a special offer for healing students only.
8. I am thinking of doing this course to work on my own healing. Is it suitable for that?
Yes, totally. I wrote an article here about the top 4 personal benefits I've had from intuitive healing. You might find that interesting to read.
9. I'm still undecided. Can you help me decide if this course is right for me?
Most of the people who have signed up so far have told me they have had a really strong impulse from Spirit to take the leap. Check out this article & video to see if being an intuitive healer is the right path for you: 10 Signs You're a Healer on the Soul Level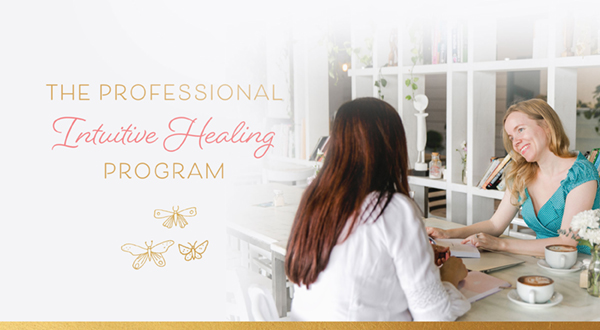 There is quite a lot of information on the course page here. Feel free to get in touch with me at hello (at) annasayce.com if you have any questions that aren't answered on the page.