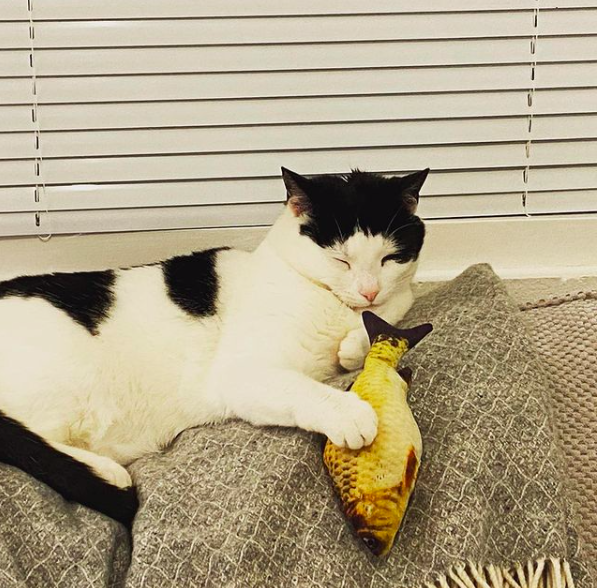 This is a pic of my cat Monty snoozing recently while I was putting together some mini Akashic readings. (Monty came to live with me about 3 months ago and I keep telling him he's now a witch's cat ????.)
I've done quite a lot of mini Akashic readings over the last few months. I love doing these mini readings. They get to the heart of a person's soul purpose fairly succinctly in 5-10 pages. They go into the soul's realm of training & the soul origins…the 2 most important aspects of your soul's purpose.
(If you want to find out more about what a soul group of origin is, you can read this article on the topic..)
It's always interesting to see which soul groups show up when I open up for a batch of mini readings…in this post, I'm going to do a break down of the groups that I have read for recently (in the last couple of months):
Parallels – 29%
Spica (1) – 27%
Alpha Caeli – 11%
Blueprinters – 9%
Vega – 8%
Spica (2) – 8%
Mission Realm – 5%
Maldec – 1%
Arcturus – 1%
As you can see, recently I've been attracting a lot of of Spicans and Parallels.
My guess is that the recent Jupiter-Saturn conjunction that happened at the start of the year has precipitated an awakening for these 2 soul groups.
Spicans are all about enlightenment…the process of shedding negative stuff and releasing blockages. There are two sub-groups within the Spican soul group. Some of them are very focused on this for themselves (Spica 1), while others are light workers who are helping others to do this (Spica 2).
Parallels, on the other hand, are bringers of the energy of freedom and multi-dimensionality. They remind us that we're freer than we think and that we have options! (Madonna and Meghan Markle are both Parallels to give a couple of famous examples.)
If you'd like to find out more about the various star seed groups (and perhaps get a sense for which you might belong to) I've written a book about it, called The 22 Star Seed Groups. I personally find it a fascinating topic.
Are you interested in getting a mini reading? I do open up for mini readings around once a month. They are priced at $65 and the only way you can hear about it is through my newsletter. To subscribe to the newsletter, visit this page and scroll all the way down to the bottom to sign up.
Further Reading: