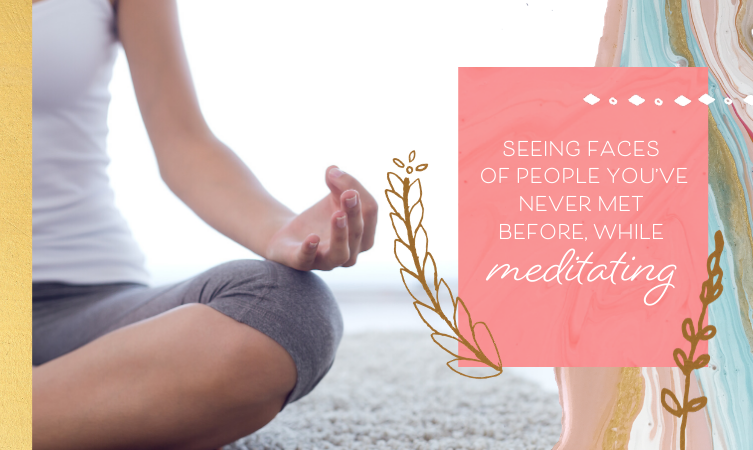 Question from a reader:
Hi Anna,

"When I meditate, I often see faces of people I don't recognise, flashing through my 'mind's eye', one by one. What does this mean?"

~ Lauren

Hi Lauren,
It is actually quite a common phenomenon to "see" (in your mind's eye) random faces of people you've never met before, particularly when you're in the process of opening up your clairvoyance.
The question is, who do these faces belong to? There are a few possibilities:
1. They are earthbound spirits
(Also known as ghosts.) Earthbound spirits are the mental or emotional bodies of those who have passed away, but whose souls have not yet fully crossed over. And so they are still attached to the earth plane.
The faces you're seeing are most likely to be earthbound spirits if:
You see lots of different faces (i.e. more than a few)
You don't feel a very positive energy associated with these faces (earthbound spirits are associated with stuck, fearful and just low-vibrational energies)
You are a psychic developer or empath who has never used a technique for clearing out earthbound spirits from your space or your auric field
If you suspect you're seeing earthbound spirits, clear this type of spirit out of your aura AND your home (this also helps them to cross over to the other side), and don't communicate with them, because the spiritual guidance they have to offer is not going to be much use to you.
There's a technique for releasing earthbound spirits, and keeping them away from you, in all of my online courses and in my book, The Empath's Toolkit.
Another possibility for seeing faces when meditating:
2. They're deceased loved ones
The faces you're seeing could be the faces of deceased loved ones or relatives of people that you know. They may be seeking to communicate with their loved one but lack an opportunity, and so they could be using you, while you're in a receptive state in meditation, to get through to their loved one on the earth plane.
The faces you're seeing are most likely to be deceased loved ones if:
You see one or a few faces (rather than a whole host of many faces)
You're a natural medium (read this article to find out if this applies to you)
You feel positive energies associated with these spirits (when channelling a deceased loved one, I tend to pick up on the positive feelings and affection such spirits have for their loved ones.) So, to me these spirits feel much more positive than earthbound spirits do.
If you see a particular face in meditation and you have some clairaudience or claircognizance, you can ask the spirit who they are. These spirits will often cooperate. You can ask them who they are connected to, what their relationship is to their loved one, what their age was when they died, and how they died, and these spirits are more likely to give you the info you are asking for (provided you have some channelling ability.)
Earthbound spirits, on the other hand, might be evasive or fail to answer your questions.
A third possibility:
3. These faces belong to your Spirit Guides
Most people have between 4 and 7 Spirit Guides.
These faces are more likely to be your Spirit Guides if:
You're already working on your psychic development and you're trying to connect with your guides
You have cleared out earthbound spirits and have ways of keeping them out of your aura and your space
You feel a sense of positivity and support coming from the spirits you're seeing
They answer positively if you ask them to identify themselves or tell you something about themselves.
4. And finally, these spirits could also be your angels
Most people have 2 or 3 Guardian Angels around them.
This is more likely if:
The faces you're seeing seem ethereal or otherworldly
The faces are good looking in a sort of neutral way, with no quirky or unusual facial features. Angelic faces look a bit non-descript (the way a ken doll does – it sounds funny but it's true!)
You are going through a hard time, emotionally speaking
You are feeling some strong positive emotions coming from these spirits, such as a sense of love or peace. (Angels are more likely to use clairsentience to communicate with you.)
So, if you're seeing faces that you don't recognise in meditation, there are two things you'll want to do:
Clear earthbound spirits from your space and your auric field, especially if you are an empath or a psychic developer
Once you have done step one, if you have some channelling ability, ask any faces you're 'seeing' who they are and why they are showing up at this time. And if you'd like to learn how to channel, check out my free 'Develop Your Intuitive Abilities' e-course.