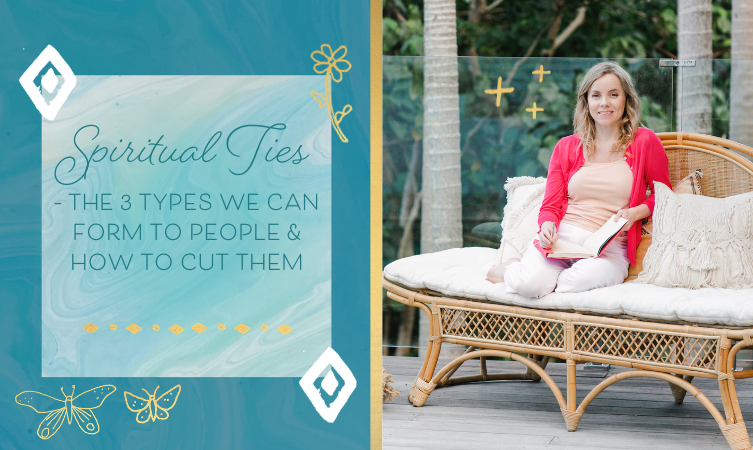 There are 3 main types of spiritual ties that we form to people that we encounter in our lives, or have a relationship with.
In this article I am going to explain each type of spiritual tie, and also what you can do to cut it.
Let's look at the first kind of spiritual tie that we can form to people:
Psychic Ties
These are tiny energetic connections that we can form to literally anyone we interact with in any way. We can form them to people who are close to us, and also to people we don't know. We can form them to people we see on the TV and read about in the news. We can form them with people we lock eyes with on the street.
These psychic ties are not personal, and they're not very meaningful. We can form many of them to people we meet and interact with over the course of a lifetime. Most people are not sensitive enough to notice their psychic ties, but when we have a lot of them and we are sensitive and empathic, they can make us feel bogged down in a subtle way. 
Just a note that when you clear psychic ties, some of them can tend to come back, but it's still worth it to clear all your psychic ties because not all of them come back, and clearing them keeps your auric field clearer than just letting them accumulate indefinitely.
Cutting psychic ties is really quick and easy. To do it, all you have to do is call on a Divine being and ask that they cut these ties for you. 
Let's go into how you can clear the psychic ties you have to people. If you have never done this before, I recommend that you clear all the psychic ties you have ever formed to anyone you've interacted with. If you're an empath, you'll definitely feel clearer and lighter afterwards. 
Here's the process for cutting this type of spiritual tie:
First of all, say, "Archangel Michael, please be with me for this psychic tie cutting process". 
Take 3 deep breaths. 
Then say: "Archangel Michael, I ask you to cut all psychic ties that I have formed with anyone I've ever interacted with in this lifetime. Please cut these ties across time and space, in every dimension and then please bring in the energies of Divine Love, Light, Truth and Power. It is done, it is done, it is done. Thank you."  
Just a note that cord cutting guided meditations and visualisations that you can find on YouTube say they are "cord cutting" meditations, but they are usually wrong about that – instead they are designed to cut your psychic ties. Cord cutting is a lot more involved than just asking an Archangel to sever your spiritual ties with someone. Let's go into that type of spiritual tie next.
Negative Cords
These are sometimes called energetic cords, or cords of attachment.
Whereas we can form psychic ties to anyone we encounter, negative cords are only formed with those people we have some sort of meaningful relationship or encounter with. Usually we form a negative cord with someone whenever we become interested in that person, whether as a romantic partner, friend or any other type of relationship. There usually has to be some degree of investment, for a negative cord to form.
You can cut negative cords with a practitioner (I have trained a couple of people who you can find on my practitioner directory). Or you can cut them yourself if you have the right method.
Cutting negative cords is nothing like cutting psychic ties. It usually takes at least half an hour, and it has around a dozen steps to it. One of the most important steps in cord cutting is getting to the 'healing insight' or life lesson that is inherent within the relationship.
To give a couple of examples, as part of a cord cutting with a parent, a person might get to the healing insight that what happened during their childhood wasn't their fault. Or it could be through cutting a cord with your partner that you realise you need to have better boundaries within the relationship. If there isn't that kind of reflection on the life lessons inherent within the relationship or the experience, the negative cord will not get cut. This is because these lessons are encoded within negative cords. Archangel Michael isn't going to let us cut the cord without getting to the meaning of the relationship or the experience. 
Soul Ties
Now let's have a look at another type of spiritual tie that we form to people, which is the soul tie.
The soul tie is the positive (or neutral) spiritual tie. Whenever we have a negative cord to someone, we also have a soul tie. The soul ties contains the fondness, love and positive energies which exist between two people.
This tie also contains information about the meaning or purpose of the relationship or encounter between two people.
If there is nothing positive about the relationship between two people, there will still be a soul tie between the two, but it won't be filled with positive energies. Instead it will just contain information about the life lessons the two people were learning within the relationship, or information about the karma the people share and were working out within the relationship. 
Soul ties cannot be cut. 
I hope this sheds light on the 3 main types of spiritual tie that we can form to people. 
If you're interested in learning to cut negative cords for yourself or for paying clients, you can get on the wait list for my Intuitive Healing Program. This program teaches a really great method for cord cutting. Here is what a recent graduate of this program (Kelli Reese) had to say about it:
"In my work, I help clients free themselves from the chronic self-worth issues holding them back. I use a number of different tools and modalities. Because my work goes into childhood trauma – this can include relationships of all kinds – the cord cutting work I was offering (that utilised a different technique from the one Anna teaches) wasn't having the impact my clients needed.

I knew there was something missing. As soon as Anna offered this healing course, I signed up without hesitation. It was exactly what I was looking for, and in it, Anna addressed WHY the typical cord cutting processes people often use are insufficient. I've also completed so many of Anna's programs that I know what she offers WORKS and I can put it to immediate use.

Now that I'm using Anna's cord cutting technique, every single cord cutting client feels the shift. I get comments like, "I feel lighter," "A weight has lifted," and "I feel free". Among clients who were still involved with the person they cut the cord with – each one was surprised that the relationship had surprisingly improved or shifted peacefully.

To someone who is considering Anna's Intuitive Healing Program but is unsure, I would say: don't hesitate. Anna's course walks you through every step needed to confidently offer cord cutting (that works!) in your practice. Every cord cutting session I do is incredibly impactful for the client. I love utilizing cord cutting in my work."

Kelli Reese, www.KelliReese.com