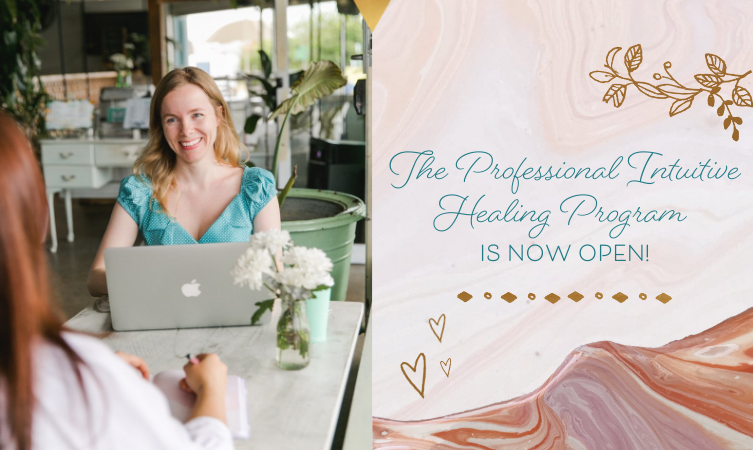 I'm so excited to announce that my Professional Intuitive Healing Program is now open for its second intake.
This is a practitioner-level, professional program which teaches you how to:
cut cords of attachment
release two types of earthbound spirit for people
release and clear a variety of energetic clutter from peoples' energy field
Who is this program for?
I recommend this program for you if:
You're an intuitive or other paraprofessional who works with people who struggle to let go of a past relationship, and the tools you currently use are insufficient to help your clients
You're struggling to let go of past relationships yourself, and you would like a method that can help you with this
You're a therapist or counsellor who wants to find a quicker way to help people heal
You're an Akashic Record reader who would like to add another tool to your toolkit and find a way to work with clients in an ongoing way
You're a Reiki practitioner who struggles with being energetically drained by your work
You're a love or relationship coach who wants a method for helping clients to let go of the past.
Why this program is different from the others out there:
This program is different from about 98% of the cord cutting methods out there in that it teaches you how to cut cords properly. Most of the free cord cutting exercises that you can find on the internet (the ones that involve guided meditations and take 10 mins) teach you how to cut psychic ties, not cords. Cutting cords is impactful and permanent. Cutting psychic ties is temporary and not all that impactful.
This program also teaches you to distinguish between the 2 types of earthbound spirit that you can come across (the ordinary and enmeshed earthbound spirits) and also teaches you how to clear each type for your client (the 2 types require different methods).

 

You will also learn to show your clients how to avoid this type of spirit in the future (most earthbound spirit release techniques do not address this.)
Learn healing methods that yield great results, are not widely used, and are in hot demand among clients.
Learn best practices for spiritual/intuitive healing — these make all the difference between mediocre and fantastic results, for your clients.

 
There are two levels of this course that you can sign up for. The Independent Learner level is $850 and gives you access to the program.
The apprenticeship level is $2600 and gives you access to the program, and email support for me for 12 months. I will be available to support you completely in your new role as a healer. 
You can find out all about the program and enrol here. 
If you have any questions about the program, feel free to contact me, at hello (at) annasayce.com