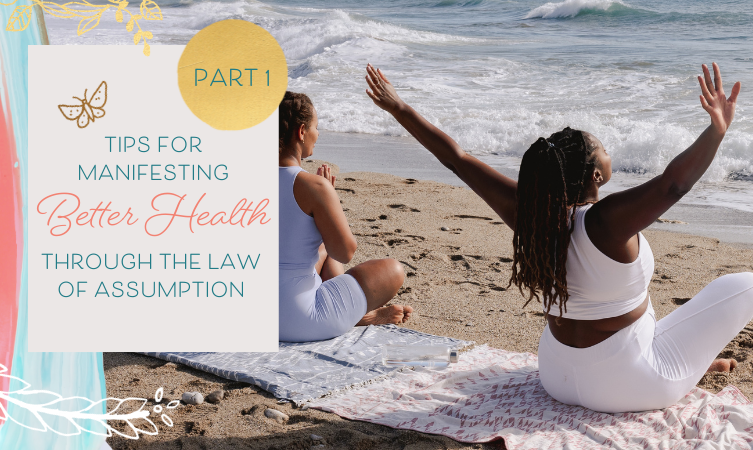 The Law of Assumption is a method for manifesting that I've been experimenting with and using for around 12 months. It's different from the Law of Attraction, which states that "we attract what we are". The Law of Assumption on the other hand states that what we assume will happen in life, is what will happen. Therefore, if we want to change our 3D reality, we have to change our inner assumptions about it. 
One of my biggest wins using the Law of Assumption has been much improved health. You can read more about my results in this area here (if you choose not to read it: a health condition that I'd battled with for 22 years cleared up and has stayed away.)
In this article, I'm going to share some of my best advice and experiences with using the Law of Assumption to improve your health or get rid of any health condition (this article is so long that I've split it up into parts, and this is part 1.)
Note: in this article, I'm abbreviating the Law of Assumption to "LOA".
Step one: Believing and knowing that it's possible
One of the hardest things for me at the beginning of my journey using the LOA to improve my health was that I initially didn't believe it was possible. 
Maybe because one of my parents worked in the medical field, when I was sick, I was steeped in the ideas that conventional medicine and pharmaceutical companies like to feed us: that health conditions are the result of faulty genes, often can't be cured and therefore we should take medication to fix ourselves. And that we are the victims of our bodies. 
This is not the case. 
The health conditions we have in our lives are actually deeply and inextricably linked to our thoughts, feelings, assumptions, and stories about ourselves and our lives. Any health condition has its own energetic signature that is a reflection of all of these. 
If we want to change our health or get rid of a health condition, the simple truth is that we have to change who we are on the inside. We have to change our thoughts, feelings, attitudes, beliefs and stories. When we change on the inside, our bodies change. 
This is not just a spiritual theory, but one that is now backed by science.
For more on this, see neuroscientist Candace Pert's book Molecules of Emotion: The Science Behind Mind-Body Medicine, or Dr Bruce Lipton's book The Biology of Belief: Unleashing the Power of Consciousness, Matter and Miracles. 
Dr Joe Dispenza is another teacher in the mind-body space who guides people to improve their health using the Law of Assumption. He runs retreats and offers guided meditations which have been studied by the University of California in San Diego, and found to improve various markers of health. 
His students have also had amazing results with various health conditions. Cancers that were deemed terminal have reversed and completely disappeared for some. The symptoms of serious chronic autoimmune conditions have disappeared and gone into remission for others, without the help of medications.
I found it useful at the start of my journey to listen to the many hundreds of testimonials from Dr Joe's students that were available on YouTube, to help break the mould (in my mind) of what is actually possible. 
If you feel skeptical about the possibility of changing your health, I highly recommend you watch some of his testimonies – the playlist can be found here.
Changing your health is possible, and getting rid of a condition or disease so that it never comes back, is also possible.
I believe that ill health is a wake up call from the soul inviting us to make a positive change in our lives.
This is part 1 in a series about improving health using the Law of Assumption. You can read part 2 here.
In part 2, I offer more tips on how we can actually make changes to our inner worlds and therefore change our health in the 3D.