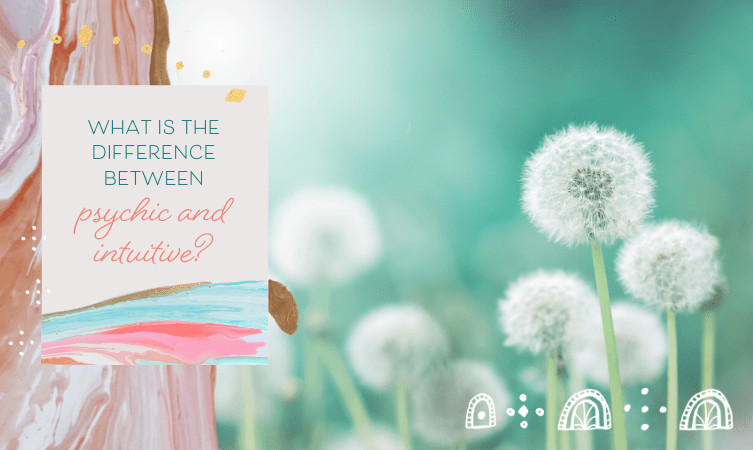 Hi Anna,

For years I've referred to people who share their psychic gifts as 'intuitives' rather than 'psychics' to avoid the troublesome connotations that the word 'psychic' has.

Is this just a matter of semantics or do you see fundamental differences between psychics and intuitives (and empaths)?
 
~ Robert

Hi Robert,
Thanks for sending in your question. You're the second person who has asked me this in the space of a few days so I figured it was time to answer it on my blog.
Fundamentally, there is not much difference between a psychic and an intuitive. When you think about the word 'psychic', fortune-tellers and crystal balls may come to mind. But at its root, the word 'psychic' does not necessarily refer to fortune telling – it is from the Greek, and simply means 'of the soul'. So when I use the word 'psychic', I am referring to guidance that comes from your soul and the spiritual realm, or someone who can channel such guidance.
And again, intuition is the means by which the higher self communicates with us – it is a function of the soul. So not a whole lot of difference there between the two, at first look.
Intuitives & Psychics might use different clair gifts
The only minor difference between the two that I am aware of, is that psychic gifts are thought of as being clairvoyance and clairaudience (clear-seeing and clear-hearing, so that means receiving guidance through one's inner ear or mind's eye.)
These might be considered the more flashy and dramatic ways to get spiritual guidance. So if someone calls themselves a psychic, the connotation is that they are likely to use either clairvoyance or clairaudience, as part of their skill set.
Intuitive gifts, on the other hand, are more likely to be the quieter, more subtle clairs: clairsentience and claircognizance (clear feeling and clear knowing.) Clairsentience is about gut instincts and hunches, and claircognizance is about inner knowing. Not so flashy or dramatic.
So if someone calls themselves an 'intuitive', it's more likely that the person uses clairsentience or claircognizance as part of their skillset.
Of course some people call themselves 'intuitive' just because they don't like the word 'psychic'
I changed the name of my 'Psychic Awakening' Course several years ago, to 'Intuitive Awakening' for this very reason. And in that course, I teach students to identify and develop any and all of their gifts, which include clairvoyance, clairaudience, clairsentience and claircognizance. So you can see that the distinction I made above doesn't always stand.
Personally, I don't dislike the word 'psychic' when used among those who understand and are open to the work I do. But it can make a bad impression among those who have little understanding of the spiritual world. So that is why I changed the name of my course. And I know other psychics who label themselves 'intuitives' for the same reason.
what about empaths?
Robert, in your question, you mentioned the word 'empath', which is a different thing altogether.
An empath is someone who has a psychic gift which enables them to 'feel into' and put themselves in the shoes of another person's experience. An emotional empath, for example, is able to explore someone's emotional experience, and may come away from that affected or burdened by what they have explored.
Note that this is a gift that goes beyond the conventional type of empathy that the majority of human beings experience. Most of us will wince if we see someone else undergoing something painful, for example: an operation without anaesthesia. Or to give another example, we may feel a sense of trepidation when we see a stunt artist walking a tightrope between two high rise buildings.
But emotional empathy is a psychic gift that (1) goes beyond what most people experience and (2) often has a paranormal element to it. So, an emotional empath can be adversely affected by other peoples' experiences long after they have occurred. And emotional empaths are also able to 'tap into' other peoples' experiences from a distance, or without even knowing for sure that such experiences have occurred in reality.
Here's a couple of examples of the latter in action:
Alice's Car Accident
An empath client of mine once told me a story about a rather dramatic example of her emotional empathy in action:
Right after her daughter "Alice" set off on a long road trip in a mountainous & sparsely populated area of the South Island of New Zealand, Jenny began to feel an unusual sense of dread and panic. She knew it was related to her daughter and she couldn't shake the feeling or get in touch with her by phone. So, even though it was late at night, she decided to just get into her car and drive in the same direction her daughter had taken on her trip. Jenny had no idea what she was doing, but she knew she just had to get in her car and go.
After driving for about half an hour along the route she knew Alice would take, she saw some lights down an embankment in the dark – it was her daughter's car. Alice's car was teetering close to the edge of a hill.
Her mother believed that as an empath, she had been picking up on her daughter's terror and her heightened senses alerted her to where her daughter was trapped. Luckily Alice had not been injured and was rescued by the emergency services.
My Psychic Empathy
In a less dramatic example, I used to coach students over the phone in a 6-week long program to connect with their Spirit Guides. Before each call, I used to 'tune in' to the student's Spirit Guide team and upon doing this, I would also feel how the student felt at that moment and get a sense for what was going on in their lives. I would know whether they were doing well or if they were struggling. This was not something that happened to me consciously – it was simply what would happen when I tuned into the student from a distance, to connect with their guides.
It is not unusual for emotional empaths to have experiences like the two I mentioned above.
There are other forms of empathy, too, such as physical empathy, psychological empathy and more. You can read more about those here: What Kind of Empath Are You?
So being an empath is different from being a psychic or an intuitive. Psychics and intuitives receive information through various clairs, from the spiritual realm (i.e. Spirit Guides & the Higher self). Whereas empaths receive information from a person's energy field, and they receive such information by experiencing it as if it is happening to them. Empathy is a form of clairsentience, but a kind that has a person feelings things vicariously.
I prefer the word 'sensitive'
The blanket word I prefer these days is 'sensitive' – because it encompasses 'psychic', 'intuitive' and 'empath' and it doesn't have as many negative connotations.
Over to you – what do you see as the difference between these two terms, and which is your preferred one?