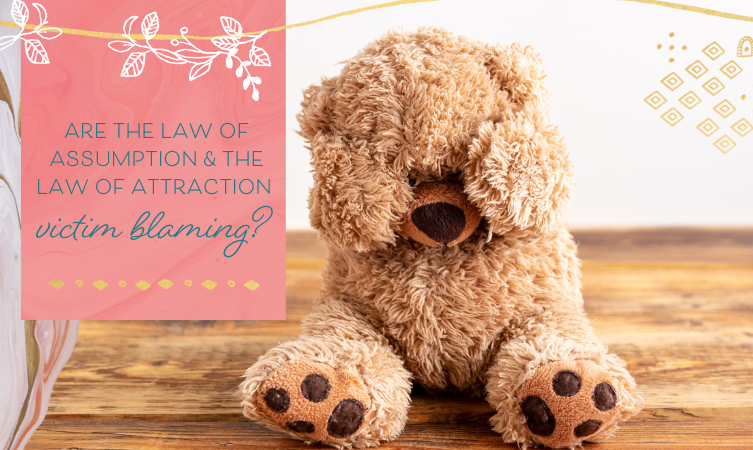 In this article I'm going to look at a criticism that was recently levelled at the Law of Assumption by a reader.
This person said that the Law of Assumption is victim blaming. And by practising it and taking responsibility for what I am creating in my life, I am blaming the victim (i.e. me) for anything unfavourable that happens to me.  
Let's take a look at this idea.
First of all, I'm going to say right off the bat that the Law of Assumption is essentially victim blaming, if you want to call it that. Let's admit that upfront.
This is the main reason I did not fully accept the Law of Attraction (which is similar to the Law of Assumption) when I encountered it 15 years ago — I found it distasteful and victim blaming, and so I stopped using it and walked away from it.
How did that work out for me?
Not very well. I struggled with my mental and physical health a great deal in the years that followed. I experienced some success at work (although it seemed that some years I had to struggle a great deal for it), and I experienced a succession of failed relationships. My life was not thriving. 
When my health reached its apex of awfulness back in 2021, I decided to do a science-based online program called DNRS which also uses the principles of the Law of Assumption to improve health. (This program is not explicitly marketed as being based on the Law of Assumption, but the 4 pillars of it match perfectly the principles of applying the Law of Assumption to improve one's health.)
That program improved my health and I was able to leave behind a 22 year long problem with depression and S.A.D.
These results are what enabled me to let go of my concerns that the LOA is victim blaming. Simply because, when you finally have what you want in life — and you got it a certain way that made you feel good most days, and that brings no harm to yourself or to anyone else — you just accept that yes perhaps the Law is victim blaming, but it works. And it's the only thing that has worked in my life to create the change I desired. 
This result in eliminating depression was not a one off.
I applied the same principles to manifest improved physical health, a new home, an improved relationship with a problematic neighbour who was harassing me, and a business that was making more money. I also manifested smaller things such as a date with someone I liked, and an improved relationship with a pet!
Is science victim blaming, too?
If we look at how I was able to create health using the Law of Assumption, we'll see that these principles are not just philosophical ones — they are also backed up by science.
If you read Dr Candace Pert's book Molecules of Emotion, you'll discover that our thoughts and emotions affect our physical body, by signalling genes that create health (in the case of positive emotions and thoughts) or signalling genes which do the opposite (in the case of negative emotions and thoughts.)
The same scientific principles are seen in quantum physics experiments, where when a particular outcome is observed ahead of time, it collapses a wave and brings about that outcome afterwards — this is called 'the observer effect'.
They are also seen in the placebo effect, which is essentially that when a person believes a certain idea, it affects the body. For example, you give someone knee surgery to fix a problem with their knee, except you only open their knee up and you don't actually operate on it. The person doesn't know they didn't get the surgery, and they recover from their knee problem just as well as the people who had the same knee problem and did get the full surgery. 
(This was a real scenario that was studied.)
Is the placebo effect victim blaming too, because you created your negative health outcome by believing something negative, or your positive health outcome by believing something positive?
Maybe. But we can't get rid of the placebo effect — it simply is an established fact and there have been over 2000 studies which prove it exists. 
You can read more about both the placebo effect and the observer effect in this article: How the Law of Assumption Works.
We can see the same phenomenon in other areas of life, too. For example, it is well known that people who were abused in childhood are more likely than people who haven't been abused in childhood, to be abused in adulthood. Whatever impresses our subconscious in a big way, is what surely manifests and this is an example of that.
So for all these reasons listed above (including my own experiences), I believe that what we are imagining, thinking, assuming and believing creates reality. There is much evidence this is true when you look at the placebo/nocebo effect, and when you look at experiments in quantum physics. 
The universe/Infinite Intelligence/God (choose your preferred term) is amoral. It doesn't care what you think about the fact that this law is victim blaming. It just reflects back to you more of what you are focusing on and thinking. If you think the Law is victim blaming, it will give you more of the same and it will confirm to you that you are a victim of circumstances.
When you're truly tired of being a victim to circumstances, and you're ready to cast your distaste aside in the pursuit of what you want, try out the Law of Assumption. Don't take my word or anyone else's word for it. This exercise provides a way to get started.
A caveat to this article:
If someone doesn't believe that the Law of Assumption applies to their life, out of courtesy for their beliefs, I'm not going to impose it on them or tell them that they created their circumstances. I apply this philosophy to myself and my own life, and to those who willingly have applied it to their own lives (such as with my clients.) But I'm not going to tell someone they created circumstances they didn't want. Only you can decide if this Law is something you accept as applicable to you.