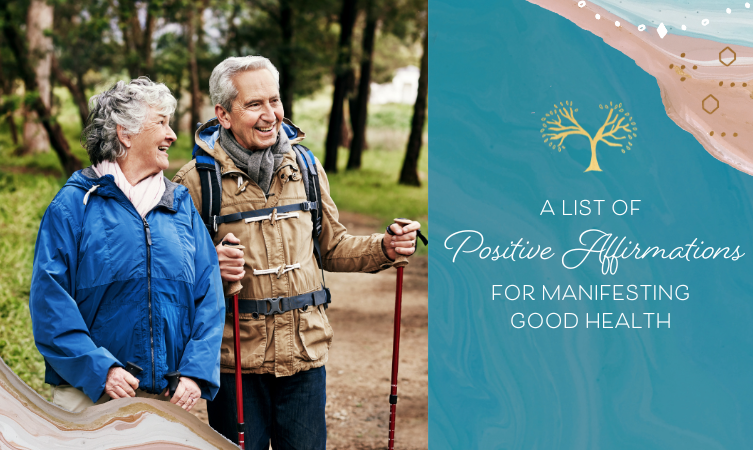 You can certainly use affirmations to improve your health (they are most effective when used consistently.) Below I have provided my favourite ones.
For instructions on how to actually use affirmations, see the end of this article.
General health affirmations
I am the healthiest I have ever been
I am the creator of my reality — why would I create anything other than complete and total wellness?
No matter what I do, I remain in perfect health 
My birthright is total wellness
(I love that) everything in my body works in perfect harmony
I was always meant for great health
I deserve to have excellent health
I take excellent care of myself
I am vital; I am strong; I am free
It is easy and natural for me to create good health
All the cells, tissues, organs and systems of my body are in tip top shape
Mobility
I love to exercise every day
I am so lucky that I can move freely
My excellent health gives me total freedom to go wherever I want
Sleep
I am a great sleeper
I fall asleep quickly and easily at X time
I wake up feeling rested, every morning without fail
I always sleep through the night 
Energy
I have tons of energy from dawn til dusk
I have all the energy I need to do everything I want in life
My excellent health gives me total freedom to live my life as I want to
I easily give myself the rest that I need 
I respond to my body's cues for rest
I am full of vitality and full of life
Digestion
I love that my digestive system is in tip top shape
I extract the most from the foods I eat
I love that I can eat anything I want and remain perfectly well
Nervous system
I love that my nervous system is completely in balance
Skin/personal appearance
I love that my skin is perfectly clear
I am radiant
I am the most beautiful/handsome I have ever been
People are always telling me how great I look
Ideal weight
I weigh X lbs/kg
I am open to new healthy habits that support my wellbeing
I am drawn to healthy foods
My body craves healthy foods
My blood sugar is in balance
Female hormones
My hormones are completely balanced
My period lasts X days 
I love that my period is comfortable and I barely notice it 
I barely know when my period is coming because I feel great beforehand 
The energetics of good health (which means the attitudes and practices which support good health)
I treat myself with kindness
I know I am worthy
I live in the present
The past holds no power over me
If my mind travels back to past events, I bring it back to the present 
I am capable — I can do anything I set my mind to
I deserve to thrive
I am worthy of the best
I live in a state of joy
I am safe
Positive energy flows through my body naturally

For more on how to use affirmations, check out these 2 articles: 
For info on how to use the Law of Assumption to improve your health, check out the articles below: