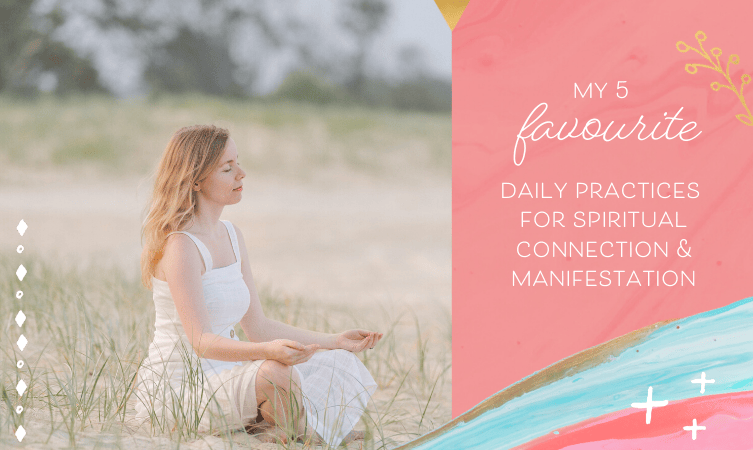 How do you connect spiritually to get guidance? In this article I want to share my own personal spiritual practices.
Why Have A Spiritual Practice?
I believe that good spiritual practices help us to focus on what is important in this busy, noisy world. The values of our society often don't bring us peace, health or support us in connecting with our true path. But connecting with Spirit on a daily basis can guide us towards what we want more of in life.
I also believe that our spiritual practices should come from a place of personal power. Spirit is ready and waiting to help and support us in our lives. It is up to us to choose what we want to create in our lives, and then tap in to spiritual guidance and help to bring it about.
With that in mind, here is what I do daily to connect with Spirit:
1. Dreamwork
One of my strongest psychic gifts is dreaming. I get messages, both for myself and for other people through dreams.
A lot of my dream messages used to be prophetic, showing me the future, and I still get these occasionally.
These days, I am most often given a dream metaphor or situation which can help me to know what I am going to deal with or what is going to show up in the upcoming day. I don't always know what the metaphor I am given is going to mean, or how it will manifest, but by the end of the day (when it has become clear) it can make me chuckle. And if there are challenges in my day, the metaphor might show me the best way to move past them.
This happened to me yesterday. I had been recently looking for interesting people to interview on my blog, and had my interview assistant Kate contact some high-profile people in the field of spirituality to interview.
While I was asleep, Kate actually sent me an email letting me know that we had had no luck so far finding someone to interview – none of the potential interviewees had got back to us!
Just before I woke up and saw this email, I dreamt that I somehow got my hands on Elton John's cell phone number and I rang him up, introduced myself, and asked him to tea. He laughed at me and said he was far too busy, but instead gave me a couple of ideas of other people to "ask to tea".
Later, one of the high-profile people accepted the interview request (and I am super excited to share their interview here when it is done). So it didn't appear to be a prophetic dream, but possibly a suggestion to ask other people, too. And perhaps just a reflection of what Kate was sending me.
I don't know why (as it is a pretty pointless skill to have) but I appear to be good at tapping in to what is going on in the world, and in my world, while I am asleep. When I am in New Zealand, it is not unusual for me to dream of significant world events while they are going on over in Europe or the US, on a different time zone.
I sometimes journal about the dreams I have once I wake up, because I believe that often the meaning can be better extracted that way (I cover a few techniques for spiritual dreaming in a chapter of my Intuitive Awakening Course.)
2. Pulling A Tarot Card In The Morning
This is a method that my friend Jay Linden suggested. In the morning I often ask Spirit:
"To achieve my intentions/goals in life, what energy would I benefit from embracing today?"
(As I am travelling at the moment, and don't want to be carrying a Tarot card deck around, I use an online generator to get a card!)
This is the card I was given today: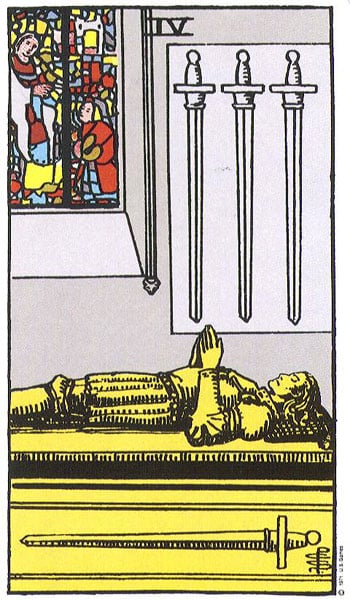 I just travelled back from the Highlands of Scotland to the South of England and have been driving long distances over the last week. The 4 of swords, with its imagery of a recumbent knight, is reminding me to slow down and take it easy, as I have a very busy week ahead.
3. Using Energy Clearing Exercises
As an empath, I am prone to picking up all kinds of energies that are not mine, and I need a daily ritual to let go of these.
So, at the end of the day, I do the following: I clear all psychic ties between me and anyone I've engaged with. I ask for other peoples' emotional residues to be cleared from my auric field. I clear out unwanted influencing energy  (another one that I am prone to picking up as an empath, that is often embedded in advertising and commercial materials.) And I clear out a few other types of energy, too.
I am including these rituals in the course for overwhelmed empaths that I am currently writing. They are an important part of keeping my energy clear and keeping my focus off the energetic noise that I am liable to picking up on and internalizing.
If you are an overwhelmed empath, stay tuned for that course.  I've been writing & putting it together it for the last 4 years, so it has been a long time coming, and I hope to have it finished in late 2017/early 2018.
4. Mindfulness Meditation
I wrote about my experiences with meditation and how I use it here. I mostly meditate in the evening. My method is to set my timer for 10 minutes and then I say a prayer which is the following:
"I ask to be clothed in a robe of white light, composed of Divine love, power and the wisdom of the Goddess.

I ask for my guardian angels and celestial helpers to guide me. I ask for my ancestors to watch over me. I ask for the help of family and friends in the spirit world to show me what I need to learn today, and for help in strengthening my spiritual connection.

Kia ora; amen."
Then I close my eyes and breathe normally. I focus my attention on my breath – just observing it, until my timer goes off.
Some nights my mind goes off on tangents like crazy, and I wonder why I bothered, and then other nights I slip into a deep state of relaxation that is very conducive to sleep. I have seen from experience that meditating appears to have a cumulative effect and even when you think it is pointless because it just took you two minutes to realise you had a thought and to bring your attention back to your breath, it is still training your mind to rein itself in!
5. Tuning Into My Spirit Guides And Higher Self
This list would not be complete without me mentioning tuning into spiritual guidance!
My students often ask me, do I tune into the Akashic Records on a regular basis? Or do I tune into Spirit Guides instead? Do I access different sources for channelling guidance (for myself) on different questions/life areas?
So I wanted to clarify that, as I am both someone who teaches, and tunes into the Akashic Records and I also tune into, and teach people how to connect with their guides.
But first of all, what are the Akashic Records?
I love the definition given on the Edgar Cayce website:
"The Akashic Records, or "The Book of Life," can be equated to the universe's super-computer system. It is this system that acts as the central storehouse of all information for every individual who has ever lived upon the earth. More than just a reservoir of events, the Akashic Records contain every deed, word, feeling, thought, and intent that has ever occurred at any time in the history of the world."
So the Akashic Records are like a "cosmic ethernet" that allows us to input a person's information (date of birth, place of birth, and name) and then find out who that person really is on the soul level.
This potentially life changing information sheds light on a person's past lives, soul origins, life lessons, and soul gifts & trainings. It especially helps to guide a person in the area of career and life purpose. This is information that you only need to find out once, so it's a once in a lifetime kind of reading – a bit like getting your natal chart done in astrology.
However, once you have had your Akashic Records read, you can still check back in to the Akashic Records to ask questions, and that is something I do periodically. (The most suitable questions to ask are those about work, business, life lessons, or past lives.)
For everything else, I tune into my Spirit Guides, because they see further than I do. If I am down in the valley, unable to see the woods for the trees, they are on top of a mountain, able to see the path I am walking. They can see what is coming up, where I've been and where I am right now. They have a better vantage point from where they are standing.
Their guidance is particularly helpful when I am travelling and everything feels a bit random and chaotic. For example, if I don't know where to go next, which type of accommodation to book or seek (house sit? Airbnb?) or the timing of my travel plans, they often help with that.
I have a tendency to push myself too hard, and they often help me to curb this tendency and take care of myself. They often appear to perform the function of my 'inner parent'.
To communicate with them, I use my Spirit Guide connection process (which is a guided visualisation), along with a claircognizant channelling technique. I include both of these in my Intuitive Awakening Course.
What are your favourite spiritual practices? Do you plan to add any of the above to your daily practice? Please share in the comments below.