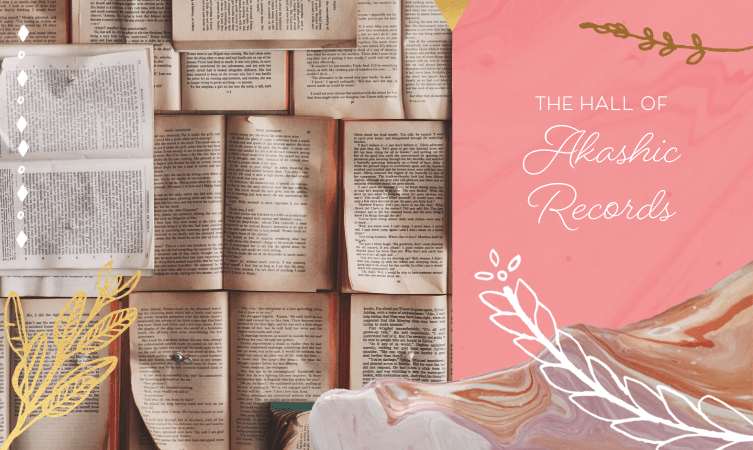 The Hall of Akashic Records is an energetic 'place' or realm which holds all the memories and records of our souls. All the events, words and thoughts that have ever occurred in the history of your life as a soul get recorded in the Akashic Records. But the records don't just contain information about souls. They also contain information about places, animal souls, and events too.
As you can imagine, being able to access the Akashic Records allows you to provide some really interesting information about a soul's past and present. I am an Akashic Record reader and most often, people ask me about their past lives, life lessons, and where their soul came from.
So, how do you get information from the Akashic Records?

To go into the Akashic Records, the process is similar to the way intuitives tune into someone's Spirit Guides or Higher self. The main component of the 'tuning in' process is a visualization which takes you to the Hall of Akashic Records. However, once you get there, you need Akashic record Spirit Guides to find the relevant information for you, as the Hall of Akashic Records is a vast place. Once you are in, you give your guides the relevant birth information and they find the right Akashic Record 'file' for you. Then, to read the person's 'file' or soul record, you need to understand which information to look for, and you need a system of retrieving it.
I'm not in a trance while I do readings – the state that I'm in is the same state an intuitive is in when they're doing a phone reading for you, live. I am always in a quiet place when I'm reading the Akashic Records, with no distractions, and I prefer to prepare all my readings rather than do them live, as it's much easier.
Can anyone enter the Akashic Records?
To read the Akashic Records, you need to have Akashic Records Spirit Guides assigned to you – my teacher did it for me through an attunement. It can also happen spontaneously. A well-known intuitive wrote to me saying that she'd been assigned an Akashic Record Spirit Guide spontaneously, and this can happen if you're ready to access the Akashic Records on behalf of other people, but you'd need some intuitive ability already to have that happen.
If you want to be able to look up information in the Akashic Records with some level of reliability and accuracy, I'd recommend you get trained to do it, as you need to know which questions to ask and how to interpret the answers.
Can you look up any information that you want in the Akashic Records?
It's true that the Akashic Records are full of any information that you might want to know about yourself or others. However, you can't just look up someone's soul record without permission. If I do a reading for someone, I need permission. You are allowed to look up the Akashic soul record of anyone close to you, such as your family members, significant other and close friends. You are not allowed to look up information about someone in the Akashic Records, just out of curiosity or nosiness.
What kind of questions can you ask in the Akashic Records?
It depends on what kind of reading I'm doing. For example, if I'm doing a reading for someone who wants to know about their soul purpose for this lifetime, their career and what kind of work would suit them, I look up information on their soul's intended gifts and purpose for this lifetime.
Why do you need someone's date of birth, name and place of birth to read their Akashic Record?
You need this information to confirm that you are reading for the right person. For example, if I go into the Akashic Record and tell my guides I want to read for Charles Smith, they may be unclear on who I mean. I may need the other details to make sure there is no confusion about who I'm referring to.
I hope that satisfies your curiosity, for those who've been asking me questions about this.
Where can you learn to read the Akashic Records as a professional intuitive or just for family and friends?
I teach students how to access and read the records in my Akashic Record Reading Program. In this program, I teach you how to do a very specific kind of reading that allows you to access the deepest information about who a person is on the soul level. You'll learn to tell a person's soul gifts, life lessons, soul background, past lives, soul groups and soul trainings, and how these manifest in our lives.
You can also order an Akashic Record Reading here. You can also see an example Akashic Record reading here.
Further reading on the Akashic Records: