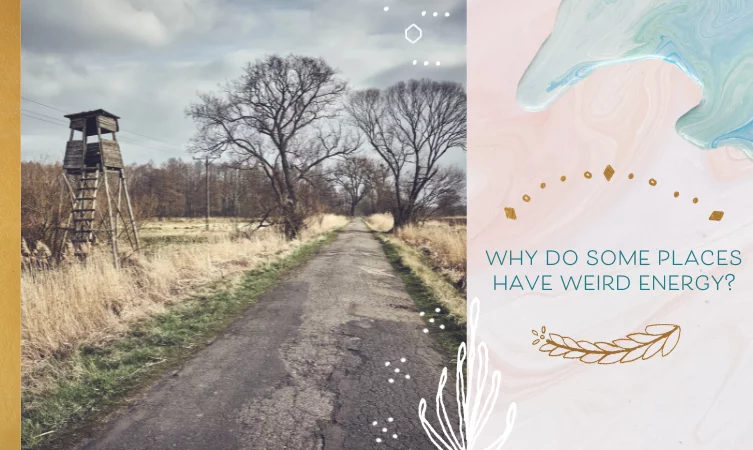 Have you ever entered a building, or perhaps driven through a town, where you felt inexplicably weird? Maybe you suddenly felt a sense of oppressiveness, or just really uncomfortable, like you couldn't wait to leave. Perhaps you had a negative feeling sweep through you from out of nowhere.
I have had that happen on many occasions, especially during my travels. One instance in particular stands out in my memory, which was when I was visiting the British Museum in London, in 2007.
I had enjoyed walking around the museum and seeing the exhibits. However, when I got to the section which had some Ancient Egyptian mummies, I started to feel sick. It was like the room was closing in on me, I felt a bit faint, and the energy in there was so heavy and suffocating. I felt like I was not wanted in the room and so I exited that exhibit. When I did, I started feeling normal again.
There are some supernatural explanations and some natural explanations for places feeling so weird. In this article, I'm going to cover some of them.
Let's have a look at the most common reasons for weird vibes in places:
Earthbound spirits
Earthbound spirits are ghosts — the mental and emotional bodies of deceased people who haven't fully crossed over into the light. They can attach to places and they can also attach to peoples' auras, but it's most common for them to attach to places. Many places have earthbound spirits attached, however when there is a high number of them attached to one building, house or place, that's when things can start to feel weird. So, this is one common reason why places can feel odd.
Signs that you have an earthbound spirit attached to your home are that you hear things when there is no-one there. I often used to hear heavy breathing and whispering in my grandparents' house when I was the only one in the house. Another family member later told me that she had heard the same sounds in the same places in the house as me.
Some earthbound spirits have been dead long enough to amass enough energy to move objects and mess with electronics (these are poltergeists). One reader of my blog wrote to me, telling me about hearing a large bang and then going into the room where the noise came from, to find a heavy piece of furniture moved to the other side of the room. No one else in the house to move it, and no intruders.
These are the things that can happen when you have a poltergeist spirit in the house.
Walking into a place where there are loads of earthbound spirits can feel quite weird. I often describe it as being like walking through a city alone, and the sun is shining and you're in a nice neighbourhood, and then suddenly you realise you've ventured into a not-so-nice part of town, where things are in disrepair and the streets are dirty and filled with some dodgy-looking characters.
Earthbound spirits are not necessarily malevolent but they are low-vibrational. They're generally unhappy and stuck, and so that's why their energy feels a bit funky and weird. They can also sometimes be perceived as a bit scary and threatening, especially by children.
If you think you have earthbound spirits in your home, you may be interested in my Energy Clearing for Spaces course. This online course teaches you to clear earthbound spirits (amongst other things) from your home.
Past Life Connections
Something else that can have us experiencing odd (but not necessarily negative) feelings in a place is the past life connection we have to an area or town. Some souls have had hundreds of past lives in a variety of places, and so it makes sense that sometimes we may come across a place that we've known well in the past. I remember when I was visiting the US, on this particular trip I only got to Western Massachusetts and San Francisco, but when I was flying over Wyoming I felt very emotional and had a cry. I desperately wanted to be on the ground and was filled with nostalgia and longing for the place. I knew nothing about Wyoming and had never wanted to go there before, but being close to it triggered something in me. I have had multiple lifetimes as a Native American, and when I asked Spirit about this experience, I was told one of my lives was in Wyoming.
Let's have a look at another explanation for supernatural experiences, this one is a natural explanation that not many people know about:
Infrasound
According to Dictionary.com, infrasound is "Sound whose wave frequency is too low (under 15-20 hertz) to be heard by humans. Some animals, such as elephants and whales, emit calls at infrasound frequencies."
Infrasound is generated by earthquakes, thunder, jet streams, very large waterfalls, wind, volcanoes and ocean waves. It's also generated by wind turbines.
There is a documented phenomenon of animals fleeing the scene of a future tsunami or earthquake before it occurs. It is thought that the animals are picking up on the infrasound that such an event may generate before it happens.
Infrasound may also explain some instances of paranormal phenomena, for example during thunderstorms. It can make people feel cold, faint, dizzy and nauseous. It can also inspire fear and awe in people, and give them a vague sense that something supernatural is occurring.
Let's have a look at another explanation for a place having a weird energy, this time a supernatural explanation:
Residual Hauntings
We usually associate the word 'haunting' with ghosts, but there is a type of haunting that doesn't actually involve a spirit, and that's the residual haunting.
A residual haunting is an echo left by a traumatic event or lived experience. The negative experience gets imprinted on the fabric of the building or the land, and it haunts that place. There is actually no spirit associated with the haunting, it's simply an echo, but it can appear exactly the same as an earthbound spirit.
A telltale sign of a residual haunting is when you see what looks like a spirit doing the same thing over and over, without awareness of its surroundings or that you're there.
Not so long ago I did a property clearing for someone in the US, who had 3 residual hauntings in her home. Spirit told me they were all caused by suffering from a series of mental health crises which occured for a woman who used to live in the house. The energy of the residual hauntings was (1) acute distress, (2) suicidal behaviours and (3) self-harm.
After she received my report and clearing, the client who owned the house told me that a woman with dementia lived in the property long term before my client and her family moved in. I didn't associate self-harm and suicide with dementia but a bit of research told me that dementia patients do sometimes self harm and/or commit suicide.
A person who becomes aware of such residual hauntings may see a woman in confusion or distress, and believe it is a ghost. It isn't necessarily though; instead it can sometimes just be an echo of a past experience imprinted onto a place. Residual hauntings can also be experienced by the new occupant as the energy that underlies the haunting. So a place haunted by a traumatic event (aka a residual haunting) will usually feel dark and heavy, and this can account for some of the weird atmosphere or feeling that can be found in some places.
I also teach people how to clear residual hauntings in my Energy Clearing for Spaces course.
Emotional Residues
Another type of negative energy that can cause bad vibes in places are the energy of negative emotions left behind by past events (aka emotional residues). This type of energy can be left behind by unhappy people.
These emotional residues can lend a very heavy atmosphere to a place until they are cleared.
I remember when I was travelling through Scotland I felt a lot of negative emotional residues concentrated in various places. One notable place was Glencoe. I didn't know the history of this place when I went there, but I felt the atmosphere there was very heavy and sad. When I did a bit of Googling on the area, I found the Massacre of Glencoe happened in 1692, where men were murdered and homes and farms were burned to the ground. Some of the women and children died of exposure.
The energy of all this suffering can be perceived in the place if you are sensitive enough to pick up on it.
Now let's have a look at some common natural explanations for what people consider to be paranormal activity:
Various natural explanations
Don't assume that knocking or banging in your walls or floorboards is paranormal activity if it happens during the day when the sun comes up or is out. When the sun comes up and a house begins to warm up, the wood in the frame of the house can expand, and and cause banging and knocking noises. Bricks can also pop and cause the same sort of noise. So that's one possible explanation for noises like that if they happen during the day.
If you have subsidence, it can cause furniture to fall over and pictures to fall off walls.
If you're dissociated, you can move objects and forget that you did it. Dissociation can happen when we are stressed, and we 'zone out' as a defence mechanism. It can look like forgetfulness or daydreaming. An example is when you are in the shower and you can't remember if you just washed your hair or not, so you end up washing it twice. Or you can't remember if you took your medication for the day because when you did it, you were mildly dissociated. Or if you're out driving and you find yourself at your destination but you have no memory of getting there.
Severe dissociation is associated with trauma, but it is normal to experience mild dissociation. And when we do experience more than mild dissociation, we can lose whole chunks of time, and find objects in odd places, thinking that we didn't move them ourselves when we did.
I am mentioning the natural explanations not because I don't believe in the supernatural ones, but because I also like reality. And in reality, some odd experiences have natural explanations.
But some have supernatural explanations. I know this to be true because I myself have had some extremely odd experiences. Like the time I was sleeping over at a friend's house when I was younger, and kept getting awakened by the spirit of a short, bald man with glasses who was angry I was in the house and wanted me to leave. When I told my friend's father (who was interested in paranormal stuff) about this in the morning, and described the man, he knew exactly who the highly territorial spirit was and what he looked like. He was the most recent occupant of the house, before my friend's family moved in and I wasn't the first person he had bothered at night.
As for those Egyptian mummies in the British Museum I mentioned at the beginning of this article? I believe that the souls of the dead, and/or the spirits who protected their resting place were unhappy about the bodies being moved because there was some serious dark energy in that exhibit. It is possible that the Ancient Egyptians put spiritual protection in place for the burial site and the disturbance created some consequences on the energetic level. The spiritual protection couldn't stop the plundering of the graves but they could make people feel uncomfortable about it.
Have you had any weird experiences in your home or in certain places? If so, what do you attribute such experiences to? Please share in the comments, I would love to hear your story.
Further Reading & Resources: