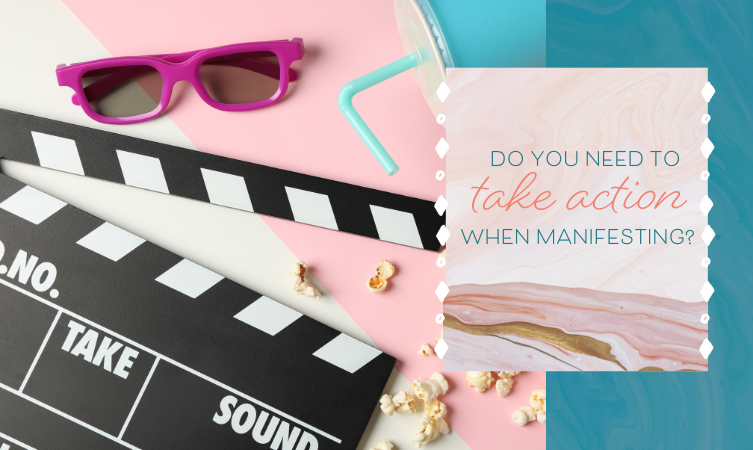 This is a question I am sometimes asked by my Law of Assumption coaching clients.
What do I mean by taking action to manifest?
Well, let's say that you would like to manifest a new business. You write out a list of steps you need to take to create this business and get started. Conventional wisdom (and some Law of Attraction teachings) say that a great way to align with your goal and get started is to simply take action.
I disagree, and in this article I'm going to explain why.
When using the Law of Assumption, you don't need to take action on your goals, at least not the kind of action I've referred to above — the strategic kind, where you come up with a list of steps and then execute on them one by one, regardless of how you're thinking and feeling about it.
Let's look at what Neville Goddard, the amazing Law of Assumption teacher, said about this.
"To attempt to change circumstances before you change your imaginal activity, is to struggle against the very nature of things. There can be no outer change until there is first an imaginal change. Everything you do, unaccompanied by an imaginal change, is but futile readjustment of surfaces. Imagining the wish fulfilled brings about a union with that state, and during that union you behave in keeping with your imaginal change"
Neville Goddard, in his book 'The Law and The Promise'
So, here Neville is saying that trying to create a change in the 3D (by taking action, for example), without first changing what you are imagining, feeling and thinking, is pointless. It's just a "futile readjustment of surfaces."
I'm sure that you have experienced this. Lots of us make New Years resolutions, and most people break them. Let's say that you join a gym at the start of the year, and you resolve to go twice a week. But underneath you don't believe you will be able to attend the gym and work out twice a week because you haven't managed it in the past, and subconsciously you are telling yourself "you're a failure because you haven't managed it before, and you aren't going to manage it this time. Remember that time you wasted $950 on an annual gym subscription in 2015? You only went once!!"
If you try to attend the gym regularly with this thinking, you will fail
Stuff will happen to sabotage you. You will get sick for 2 weeks, then the next time you go, you'll get held up after a traffic accident and the gym will be shut by the time you get there. Then something will happen with your children or work, which means you have even less time to go to the gym. It seems like it's not meant to be, and you end up giving up.
But if you first change your imaginal activity, seeing yourself as fit and strong, enjoying working out, and feeling a sense of achievement and wellbeing as you come away from the gym, and if you affirm that "I go to the gym twice a week and I feel great about it" and if you interrupt the thoughts of "you're a failure because you never managed this before", after a few weeks of doing this daily, there will be no sabotage in your 3D world. You will (maybe for the first time in your life) feel like going to the gym and working out and you won't have to drag yourself there.
This is what Neville is referring to.
Your current thinking and beliefs are fueling what you see in your 3D and keeping you in a certain, limited 'box'. You cannot bust out of that box in the 3D unless you change your thinking.
I'll give you another example of how this works.
When I set the intention to improve my physical health a while back, I didn't really believe I could create this change and I had a lot of resistance and fear. So, initially what I did was spend a couple of hours per day researching on the internet and reading books about health. I was on a mission to find the thing that could improve my health. I read around 70 books on health and nutrition as part of this process.
I had a list of strategies from all of this research and I was going through them one by one — things like, reducing toxins in my environment by filtering my water or taking a new probiotic. I didn't feel called to do these things; instead I was seeking these solutions out with the energy of fear and desperation and hoping one of them might be the solution.
My health didn't improve that much while I was doing this, and it was because I was just 'readjusting surfaces'. I wasn't really affirming regularly for my health, nor was I visualising it with any consistency. (Deep down I was too scared to do that, in case it didn't work.)
However, when I did start visualising regularly for improved health, a Bridge of Incidents began, and it happened in a way I could never have predicted. In short, I felt called to come off an anti-depressant I was on, and when I was experiencing horrible withdrawal symptoms from it, I stumbled across a protocol that I knew was part of my solution, and I've been on it ever since, resulting in much improved health.
The Bridge of Incidents offered this solution up to me and threw it into my path.
I didn't find this protocol through strategising and plotting how I was going to improve my health. Instead it came into my awareness through something unrelated (I was coming off an anti-depressant and needed help with the withdrawal.)
Can you see the difference between these two types of action?
In one of them, I was anxiously seeking out solutions that didn't really seem like the answer (like buying a fancy water filter and taking a special probiotic), and throwing things against the wall to see what would stick.
In the other scenario, I serendipitously came across the solution in a bridge of incidents, and I wasn't even looking for it. When I stumbled upon it, it seemed like a no brainer – there was no doubt about doing it.
So, in summary…
Yes, it's good to take action on your intentions.
But you should only take action if it's prompted and it feels right. If you have to talk yourself into something and weigh up pros and cons, it's probably not right.
The Bridge of Incidents will shove something in your face (sometimes literally) if you're meant to take action on it. You won't question whether you need to go ahead with it — you just will!
What more can I be?
This topic reminds me of a great video I watched by Tom Kearin of Be Something Wonderful (a Law of Assumption YouTube channel). He had a question from a listener who had health problems, and the listener said "I've tried everything to change my health — I'm not sure what else I can do!" (the video is here.)
And Tom replied, the question you are asking shouldn't be "what more can I do?" — it should be, "what more can I be?"
In pursuing your intention, don't try to 'do more' in the 3D. Instead, try to 'be more'.
Change yourself and the outer world (and your circumstances) will change.
How can you change yourself?
Become the person who has your desire by visualising your intention a couple of times per day.
Or affirm for your intention (and if you want quick results, use robotic affirming for a couple of hours per day.)
Ask yourself: who would I be if I had reached my goal? Go after that (instead of the 3D goal.) The right action will truly flow from there.
Here are some articles which can help you get started: